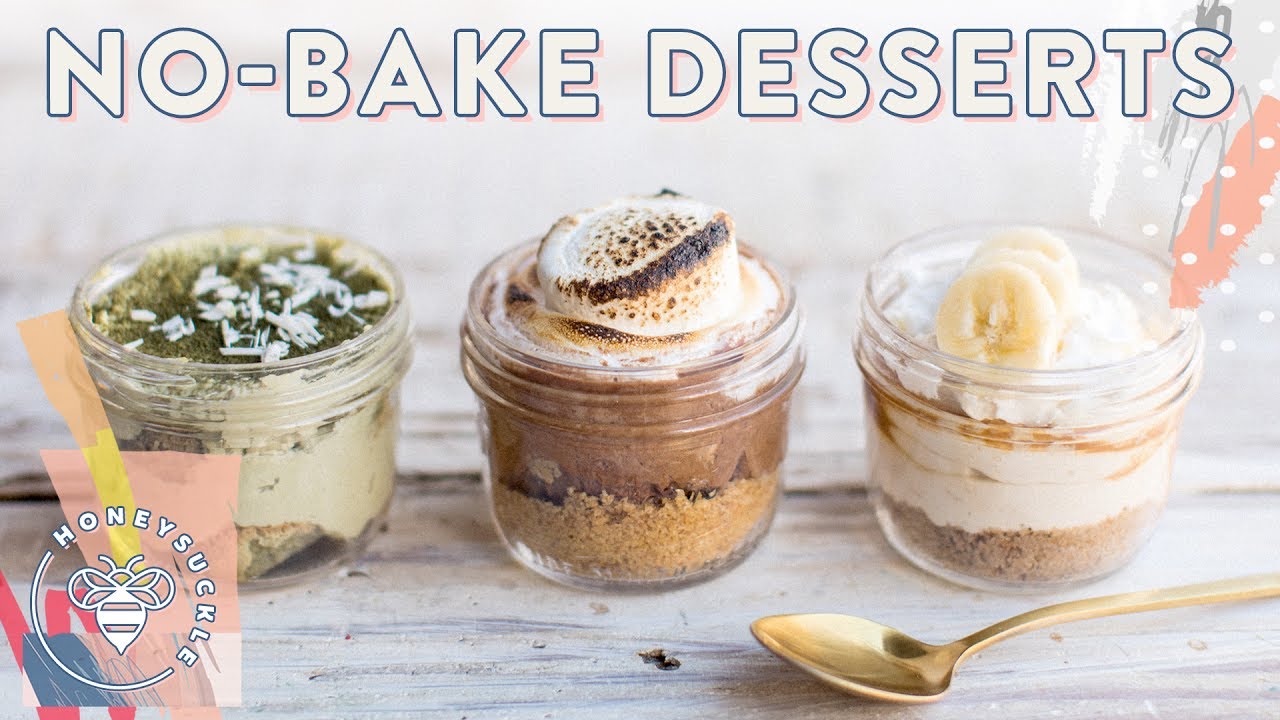 These small desserts look so good dessert in jars are such fun to make for a dinner party or outside party .. and these 3 desserts recipes I just know you are going to love to make the only thing is which one to make first
These great dessert recipes have been brought to you by Honeysuckle on YouTube, thanks for sharing these recipes with us
Here below are the recipes for each dessert and the video tutorial to watch both from the YouTube channel
Matcha Tiramisu / MATCHAMISU:
8 oz mascarpone cheese
1/2 cup powdered sugar
1 tbsp matcha powder
1 tsp vanilla extract
1 cup heavy whipping cream
2 tbsp matcha powder
1 cup hot water
lady fingers
white chocolate shavings
matcha powder
Beat the mascarpone and confectioners' sugar with an electric mixer on medium speed just until smooth and light (do not over beat, or it will separate), about 20 seconds. Beat the cream on medium-high in a second bowl to form soft peaks. Fold 1/3 of the whipped cream into the mascarpone to lighten it, then gently fold in the remaining whipped cream.
Working with a couple at a time, dip half the ladyfingers in the espresso mixture until moistened but not apart, about 5 seconds per side. Put them snugly in rows in the bottom of an 8-by-8-inch glass or ceramic baking dish.
Spread half of the mascarpone mixture over the layer of ladyfingers and sprinkle with all of the chopped or shaved chocolate. Repeat soaking and layering with the remaining half of the ladyfingers. Spread the remaining mascarpone mixture smoothly over the top. Cover with plastic wrap and chill at least 4 hours or up to overnight.
S'mores Chocolate Mousse Cups:
1 cup graham cracker crumbs
2 egg yolks
1/4 cup sugar
1/2 cup whipping (heavy) cream
1/2 cup chocolate (3 oz)
3/4 cups whipping (heavy) cream
Beat egg yolks in small bowl with electric mixer on high speed about 3 minutes or until thick and lemon colored. Gradually beat in sugar.
Heat 1/2 cup whipping cream in 2-quart saucepan over medium heat until hot. Gradually stir at least half of the hot whipping cream into egg yolk mixture; stir back into hot cream in saucepan. Cook over low heat about 3 minutes, stirring constantly, until mixture thickens (do not boil). Stir in chocolate chips until melted. Cover and refrigerate about 2 hours, stirring occasionally, just until chilled.
Beat 3/4 cups whipping cream in chilled medium bowl with electric mixer on high speed until stiff. Fold chocolate mixture into whipped cream. Pipe or spoon mixture into serving bowls. Immediately refrigerate any remaining dessert after serving.
Top with marshmallow creme, giant marshmallow – toast.
Banana Pudding Cheesecake Cups:
Vanilla Wafers
Heavy whipping cream
Caramel Sauce
2 cups vanilla wafers
4 tbsp melted butter
1 8 oz cream cheese at room temp
1/4 cup greek yogurt
1/2 ripe banana
1/2 cup powdered sugar
1 tbsp heavy cream
1/2 tsp vanilla extract
pinch of salt
In a bowl, mash banana and then add cream cheese, greek yogurt – mix together thoroughly. Add powdered sugar, cream, vanilla extract, and pinch of salt. Mix with electric mixer until fluffy. .Add to piping bag.
Top with caramel sauce, whipped cream and slices of bananas.