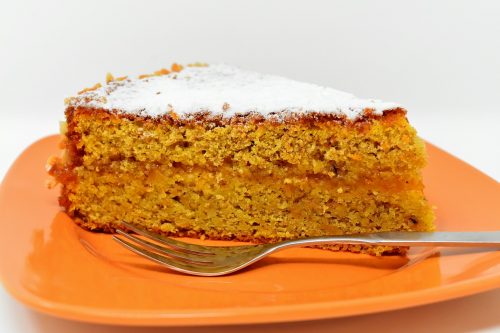 A torte sounds so fancy, it's an ideal dessert to make for formal occasions and casual Sunday night dinners. You can dress it up with icing and edible flowers or serve it plain. A nice cup of coffee can transform the torte into a complete dessert you can savor bite by bite.
While carrot cakes have become so commonplace you can but it at most bakeries and grocery stores, where can you purchase a delicious carrot torte? Fortunately, a carrot torte is an easy dessert to make. It's a great recipe for beginner home cooks.
Ingredients for the Carrot Torte
4 separated eggs
1 cup granulated sugar
1 cup raw carrot, grated
1 lemon rind, grated
1/2 lemon's worth of juice
1/2 cup of flour
1 teaspoon baking powder
Whipped cream for serving
How to Make a Carrot Torte
Preheat oven to  325 degrees. Beat 4 egg whites until stiff. Add 1/4 cup of sugar to egg whites and set aside. Beat 4 egg yolks until thick and add rest of sugar. Add lemon juice, lemon rind, flour, and baking powder into the egg yolk mixture. Fold in egg white mixture. Put batter into two 8 inch pans and bake for 25 minutes. Cool and serve with whipped cream or ice and serve with nuts, edible flours, and cinnamon.