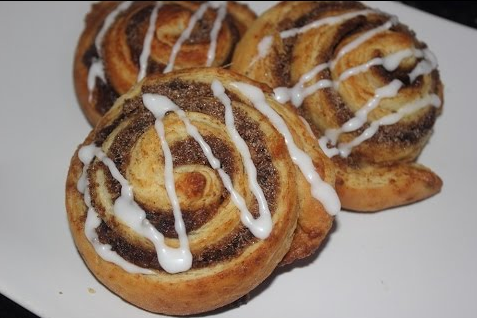 Cinnamon swirl is a sweet roll made from a combination of flour, cinnamon, sugar, cream cheese, and butter. It is commonly enjoyed in some parts of Europe and America although the pastry is presumed to have originated from Sweden  where it is traditionally enjoyed during coffee breaks or during get together events with friends.
The cinnamon swirl can be made into different sizes from small circles of 5cm diameter to large circles of 20cm diameter. Just like pizza, it can be cut into slices and served in portions. For instance, if I'm going to host five of my friends for a get-together, for brunch, I could make a cinnamon swirl of about 20cm and make some beverage to serve alongside. Or, I could make six 5cm cinnamon swirls where we'd have each person to a swirl.
Considering the fact that everyone now goes for pizza for small get togethers, either at home or work, my friend will be glad to have something different from usual at my place. And, cinnamon roll is different and unusual. It can be served during the weekend or morning tea party, Christmas family brunch or snack time.
So, here's the recipe for deliciously sweet homemade Cinnamon Swirls. The recipe is super easy and quick to make with minimal ingredients.
Ingredients for Delicious Homemade Cinnamon Swirl Danish 
1 cup of softened cream cheese
1/2 cup granulated sugar
2 teaspoons ground cinnamon
2 teaspoons liquid vanilla extract
495g of already made puff pastry
⅛ cup of butter, unsalted
For glazing (optional)
1 cup of milk
1½ cup confectioner's sugar
How to Prepare Delicious Homemade Cinnamon Swirl Danish
To start this recipe, preheat your oven at 180°C and grease an 8-inch round cake pan.
Mix 1 cup of softened cream cheese, ¼ cup granulated sugar, 1 teaspoon ground cinnamon and 1 teaspoon liquid vanilla extract together in a medium sized bowl. Mix these ingredients together until smooth and set aside. Now, using a rolling pin, roll out your puff pastry into a thickness of about ⅛ inch.
Transfer the cream mixture into a piping bag with a large round tip. Now, pick one of the two shorter sides of the rolled pastry and pipe the cream cheese mixture along the edge of the sheet. Roll over this side with the cream twice to seal and using a knife, cut out the filled pastry from the other flat puff pastry. Repeat this filling and rolling process until all the puff pastry is used.
Next, make a big swirl of the pastry rolls by twisting one rolled dough into a small swirl and connecting other pieces (one after the other) of rolled dough by sealing the edge of the swirled dough to the end of the joining rolled dough.
Seal and swirl all pieces until finished and use a spatula to transfer the dough to a large round cake pan that has been greased.
After placing the dough in the pan, keep it aside and melt ⅛ cup of unsalted butter in a small bowl. Combine this melted butter with ⅛ cup of sugar, 1 teaspoon of liquid vanilla extract and 1 teaspoon of cinnamon. Using a cooking brush, apply this oily mixture over the swirled dough in the baking pan and place in the preheated oven to bake for 35-40 minutes until the puff pastry is golden brown and cooked through.
After baking, you could sprinkle some confectioners sugar or make a glaze. Measure a cup of milk and mix in 1 ½ cup confectioners sugar to make a pourable glaze. Pour the glaze over the cinnamon swirl and cut into slices like pizza to be served.
To see the original recipe that inspired this one, check out the recipe for Cinnamon Danish Swirl found at Tasty.