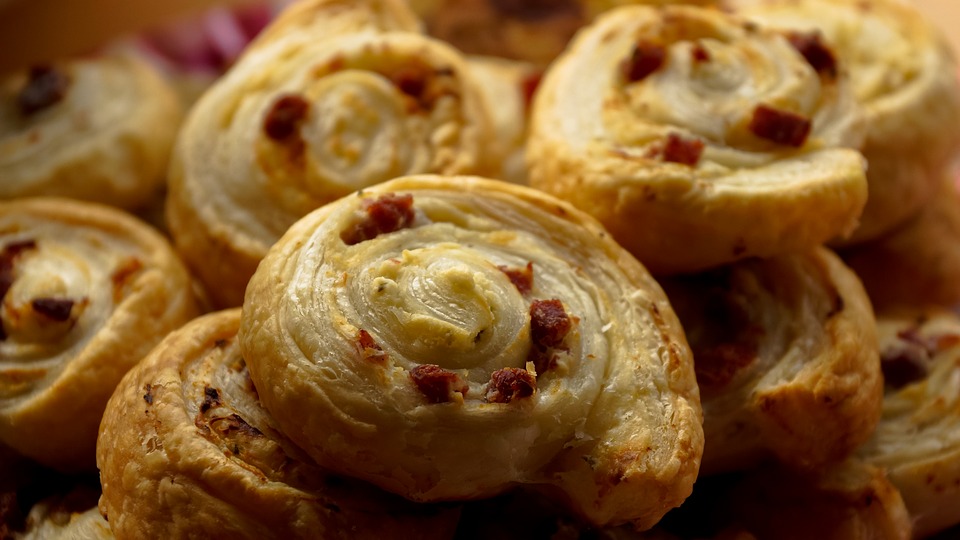 It's savory, cheesy, and on top of that, I add bacon to it, not too much, just enough to give it that classic bacon taste. What more could you ask for an afternoon snack or breakfast? This recipe will serve 4-6 people, but I suggest you make more if you're having a party, they won't last long. 
Puff pastry is kind of my specialty, and whenever I have guests or family coming over, they always ask about my puff pastry. More than that, my family loves them too. So, this recipe is like an early treat for my family because I've been trying to create a healthier dessert, and bacon is definitely is not on my list. 
My kids love to eat my pastry with a tall glass of milk or, some black coffee is always a great pair for anything with bacon. I'm a tea girl, so tea will always be my option when I have some puff pastry to devour. 
Ingredients for Bacon Puff Pinwheel
4 slices bacon (chopped)
2 teaspoons red wine vinegar
1 tablespoon fresh thyme (chopped)
1 egg beaten plus 1 tablespoon of water (egg wash)
½ package puff pastry
¼ cup black diamond original cheese spread
How to Make Bacon Puff Pinwheel
Preheat your oven to 350°F. Cook the bacon until nice and crispy. Discard excess fat and return the pan to the stovetop. Add in the fresh thyme and red wine vinegar, stir, and remove from the heat.
Roll out the puff pastry on a dry flat surface to a 10" x 10" square. Over the puff pastry, spread the Black Diamond Original Cheese Spread, leaving 1" from the top of the dough. Sprinkle the bacon on top and lightly press in. Roll the dough up over itself into a log starting at the end closest to you.
With the egg wash, brush the pastry and cut into 1" pieces. Place them on a parchment-lined baking sheet. Bake until the pastry is lightly browned (15-20 minutes). Take out and allow time to cool before serving. Enjoy.
To see other recipes for Bacon Puff Pinwheel, check out: 
https://www.foodnetwork.ca/recipe/crispy-bacon-cheddar-puff-pinwheels/13737/
https://www.theanthonykitchen.com/bacon-cheddar-amp-leek-pinwheels-recipe/
https://www.julieseatsandtreats.com/puff-pastry-bacon-pinwheels-with-cheddar/