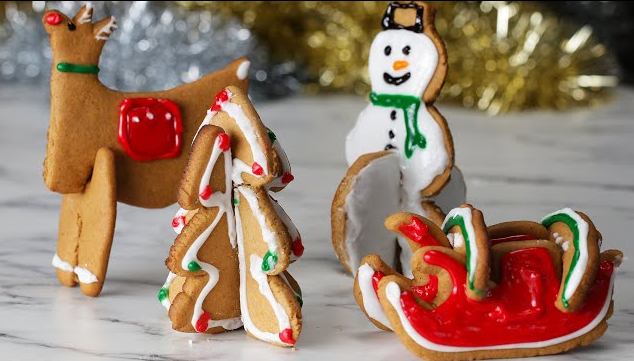 Christmas cookies! Who doesn't love them? Pastries designed in Christmas templates are one of the edibles we look out for every Christmas. As a mother, I do my job of thinking of intriguing recipes to feed my family during Christmas because it is actually really fun making meals during this period.
This cookie recipe is an all-rich one. It has ginger, cinnamon and molasses in it, just like gingerbread. And, it tastes fabulous. You could even make 3D figures, set them and intrigue your kids. Make them wonder how mom made a Christmas house and a snowman with cookies. Give them beautiful stories to tell their friends and write in their essays when school resumes.
The use of brown sugar and molasses instead of regular granulated sugar makes this recipe rank way high in nutritional value. Brown sugar and molasses contain essential minerals like calcium, iron, magnesium, potassium and phosphorous. And so, when you eat this delicious cookies, you are not just snacking, you're doing it the right way for your body.
How then do you prepare these special, nutrient-rich Christmas cookies?
Ingredients For 3D Christmas Cookies
3/4 cup of melted butter
3/4 cup of brown sugar
3/4 cup of molasses
1 teaspoon salt
2 teaspoon cinnamon
2 teaspoon ginger
1 teaspoon allspice
1 large egg
1 teaspoon baking powder
1/2 teaspoon baking soda
3 1/2 cup of flour
Glaze
1 cup of confectioners' sugar
2 tablespoons milk
How To Make 3D Christmas Cookies
In a bowl, whisk together 3/4 cup of melted butter, 3/4 cup of brown sugar, 3/4 cup of molasses, 1 teaspoon salt, 2 teaspoon cinnamon, 2 teaspoon ginger and 1 teaspoon allspice till you have a creamy brown batter. Further add 1 large egg and whisk.
Now add 1 teaspoon baking powder, 1/2 teaspoon baking soda and in two or three batches, add 3 1/2 cup of flour. Mix these powdered ingredients in with a spatula until you have a thick light brown dough. Pour the batter over a polythene bag and mold into it. Place in a freezer to chill for 30 minutes.
After chilling, sprinkle some flour on a work slab and rolling pin, place the dough  on the slab and roll out till it's 1/4 inch thick. Using a baking knife, cut out animals, Christmas trees, snowman and other figures that you like from the dough. If you cut the first series and the dough seem not to allow for another series, mould into a ball again and roll out. Then, cut until it's all exhausted. Place cut-out figures in a baking pan and bake at 350°Fahrenheit for 9 minutes.
Mix 1 cup of confectioners' sugar and 2 tablespoons milk in a bowl, divide into two portions, add Christmas green colour to one and Christmas red to the other. Pipe the glaze in two different bags with a small round tip and design your Christmas cookies as desired.
To see the original recipe that inspired this one, check the recipe for 3D Christmas Cookies found at Tasty.