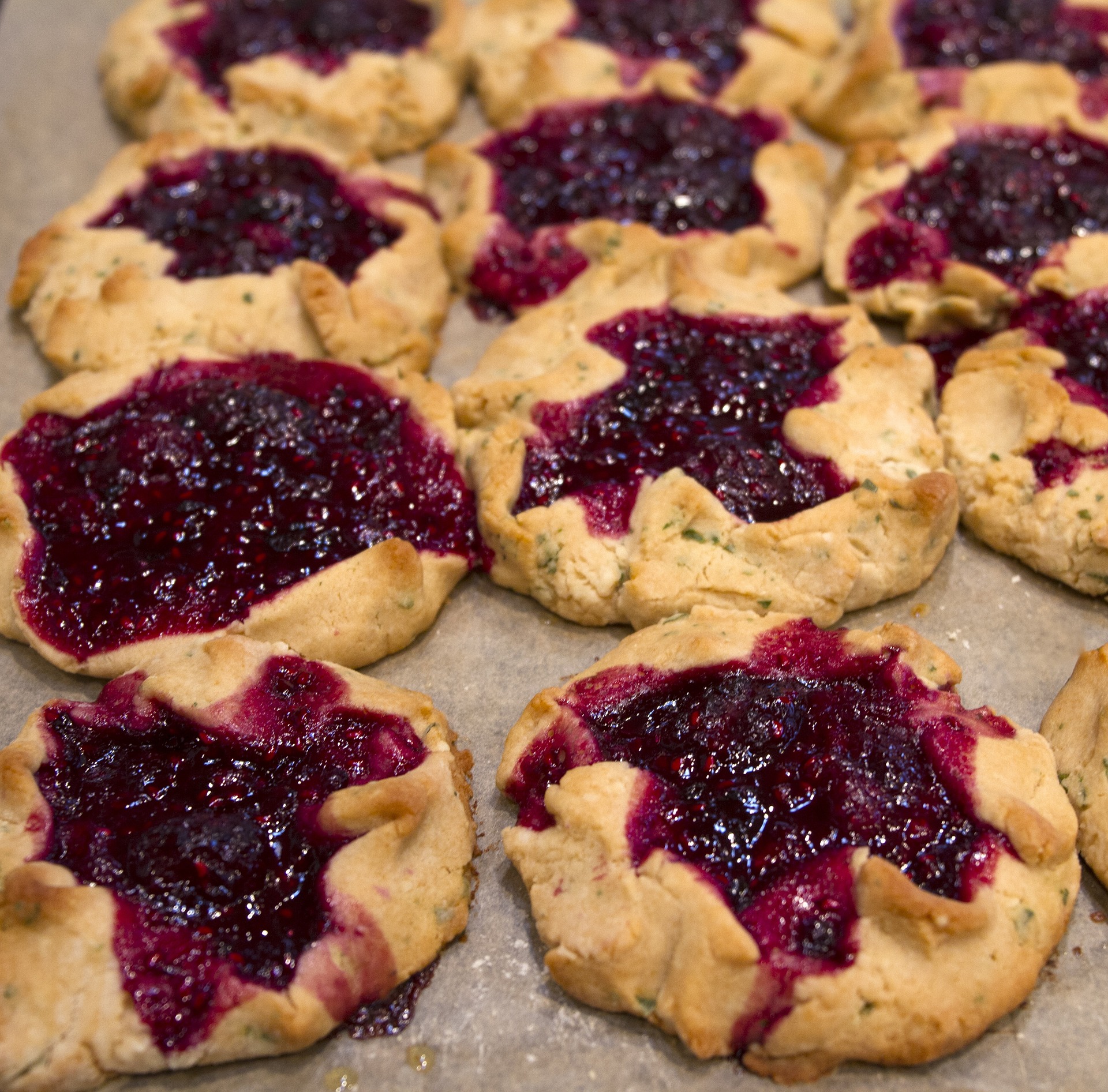 This "Hallongrotta" cookie has a Swedish background and the name means "Raspberry Cave". Here in the US, we know them as thumbprint cookies. It's delicious, easy to make, and you basically can make them with any jam available to you. But today, we're going to make a blackberry thumbprint cookie, it's our family favorite jam and this recipe will make about 30 cookies, enough for everybody in your family and a perfect snack for the holidays.
These cookies bring back a lot of memories back from when I was still a kid. My grandmother was Swedish and she always makes these amazing cookies whenever we visit and it's always with different filling every time. I want to recreate her recipe and hopefully you can make some good memories with them too.
Blackberry, raspberry, strawberry, any kind of jam will work with this amazing cookie. Or, you can mix it with their fresh form, chopped some fresh strawberry and put it on top. A glass of fresh milk also is a great pair for these delicious cookies.
Ingredients for Blackberry Jam Thumbprint Cookies
¾ cup confectioner's sugar
¾ cup oil
1 egg
2 teaspoons vanilla extract
1 ¾ – 2 cups packed flour
1 teaspoon baking powder
¼ teaspoon salt
about 6 oz. jam of choice
How to Make Blackberry Jam Thumbprint Cookies
Start by preheating your oven to 375 F. Line two baking sheets with parchment paper. Add confectioner's sugar and oil in a large bowl and mix until smooth. Add in the egg and vanilla extract next and whisk until smooth. Finally, add in the flour, baking powder, salt, and stir everything together until just combined. Add about ¼ cup more flour if your dough is loose or a bit wet.
In between your palms, round small pieces of dough and space out onto baking sheets. Using your thumb, make an indent the center of each cookie then spoons the jam into the indented centers. Bake until bottoms are just golden (about 11 minutes). Before moving them, allow the cookies to cool and firm up a bit on the baking sheets. Serve and enjoy.
To see other recipes for Blackberry Jam Thumbprint Cookies, check out:
http://donteatthespatula.blogspot.com/2015/12/blackberry-jam-thumbprint-cookies-aip.html
https://www.trufflesandtrends.com/home/2017/8/16/tender-jam-thumbprint-cookies-with-video
https://ithappensinablink.com/blackberry-jam-thumbprint-cookies/