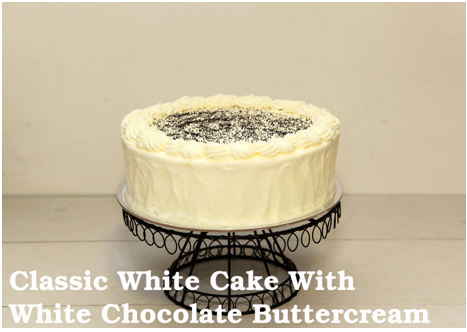 This Classic White Cake With White Chocolate Buttercream is still pleasing the taste buds of many people. With this recipe, the taste buds' pleasantries are going to get boosted to a whole new level. This recipe isn't hard to make, though I doubt you have all these ingredients at home.
The perfect cake is different for every person, but your extended family will love this one. It's what I've eaten at my cousin's house, she's really into baking cakes and trying new recipes. This one really hit base.
The white chocolate buttercream gives it that additional sweetness that can take you into heaven for a second, then again on the next bite. It's a no-brainer that you should bake this at least once for your extended family.
Cakes are usually reserved for birthdays and very special occasions, but it's not forbidden to bake them on a normal day with absolutely zero occasions. If you have two children, make sure to bake it for both of their birthdays, because this cake will almost always beat the other one in a taste competition.
This recipe is good for about 12 servings, which should be enough for your extended family. But if you can't feed all of them with one cake, carefully add more ingredients to make a bigger cake(or just make two).
Ingredients for Classic White Cake With White Chocolate Buttercream
Classic White Cake:
2 1/4 cups cake flour
1 cup milk, at room temperature
6 egg whites, at room temperature
2 teaspoons almond extract
1 teaspoon vanilla
1 3/4 cups sugar
4 teaspoons baking powder
3/4 teaspoon salt
1 1/2 sticks butter (room temperature)
Buttercream:
9 ounces white chocolate, chopped
6 eggs whites
1 1/2 cups plus 3 tablespoons sugar
1 1/2 cups plus 3 tablespoons butter, at room temperature
2 teaspoons vanilla
How to Make Classic White Cake With White Chocolate Buttercream
Preheat the oven to 350 °F and prepare two 8-inch cake pans by spraying them with Baker's Joy – You can replace this with oil of your choosing. Then line the pans with parchment.
Pour the milk, egg whites, and extracts into a medium-sized bowl and whisk until they're nicely combined.
In a different bowl, mix cake flour, sugar, baking powder, and salt with an electric mixer at slow speed. Add the butter, cut into small pieces, and mix for a few more minutes.
After you've done that, take half of the milk mixture and add it to the flour mixture. Mix it at medium speed for about a minute.
Split the batter evenly in the two prepared cake baking pans.
Bake until you insert a toothpick in the center and take it out clean; it should take about 27-30 minutes. Let it cool off before moving to the next step.
Melt the white chocolate. You can use a microwave-safe bowl and melt it in the microwave, do it in 15-30 second intervals, stirring until melted. Let it cool to room temperature.
Add the egg whites and sugar in a bowl and mix until they're neatly combined. Place the bowl over a pot of boiling water so that the water covers a third of the bowl. Whisk the egg whites until they're too hot to touch, should be about 1-2 minutes.
Kick the mixer into high gear to mix the eggs until they're thick and cooled to room temperature; it should take about 5 minutes. Lower the mixer speed to medium and add butter, one tablespoon at a time, making sure the butter is nicely mixed before adding the next tablespoon. Finally, add the chocolate and vanilla and mix it until it's smooth. If the icing seems too thin, refrigerate to thicken it.
To see other recipes for Classic White Cake With White Chocolate Buttercream, check out: 
https://www.thatskinnychickcanbake.com/classic-white-layer-cake/
http://wegottaeat.com/epriebe/recipes/lemon-lovers-white-chocolate-cake
http://www.dianasdesserts.com/index.cfm/fuseaction/recipes.recipeListing/filter/g/recipeID/2236/Recipe.cfm