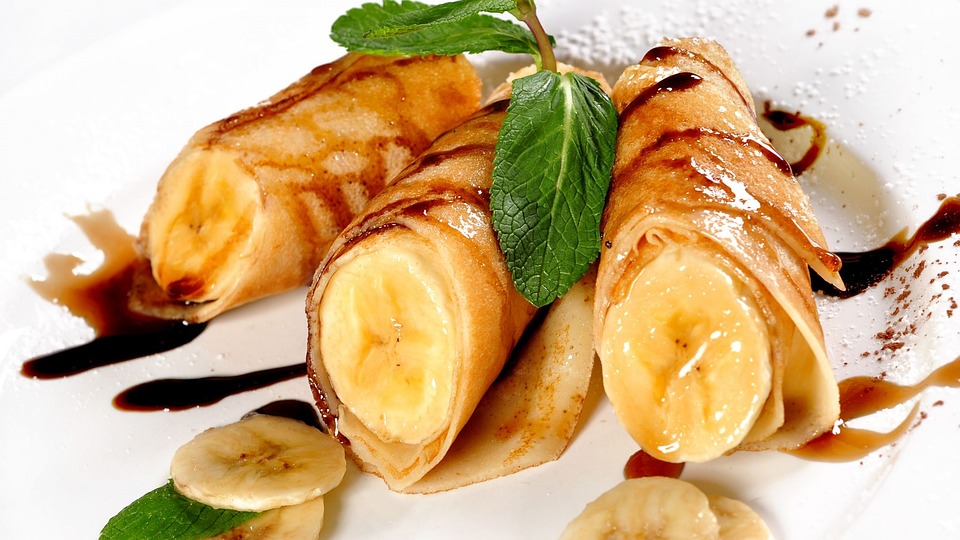 You can really be creative with this recipe and create your own taste combination. Today, we're going to combine banana and chocolate as the filling and trust me; the taste is absolutely divine! Sweet and creamy, this crepes recipe will make 6 crepes that are perfect for any dinner dessert or just a small party with family and friends. 
There's a lot of crepes places opening up in my town, especially in the malls. You can literally choose any kind of flavor for this dessert, sweet or savory. But I find that the crepes places are usually overly sweet, overly savory, and over the top with a million fillings on them. I hope with this recipe, you can see that sometimes the combination of everyday ingredients can make a very delicious dessert. 
A cup of black coffee is a great pair with this crepe, and the taste will complement each other. If you like chocolate, you can also melt some chocolate and pour on top of them, not too much, just enough to give it that extra sweetness. 
Ingredients for Choco Banana Rolled Crepes
Crepes:
2 eggs
2 tablespoons butter (melted)
1 tablespoon sugar
¾ cup milk
¾ cup flour
½ teaspoon vanilla
Filling:
6 small bananas
3 ounces Canadian mozzarella (grated)
2 ½ ounces dark chocolate
1 cup Canadian ricotta
¼ teaspoon ground cinnamon
¼ teaspoon ground nutmeg
¼ teaspoon ground ginger
How to Make Choco Banana Rolled Crepes
Crepes:
Beat the eggs, sugar, and vanilla in a mixing bowl. Add the milk and melted butter then whisk in the flour gradually. Into a non-stick pan at medium heat, pour a small ladleful of batter, and quickly spread the batter to get a thin crepe. Let brown and flip to brown the other side. You can serve the crepes hot or cold.
Filling:
In a double boiler, melt the chocolate. Using a food processor, combine the Ricotta with the melted chocolate and spices and process until smooth. Add half of the shredded Mozzarella and spread on 6 crepes then roll the bananas up in the crepes. Cut into 2 pieces and sprinkle with the remaining Mozzarella. Serve and enjoy.
To see other recipes for Choco Banana Rolled Crepes, check out: 
https://www.foodnetwork.ca/recipe/choco-banana-cheese-crepe/11252/
https://www.tasteofhome.com/recipes/chocolate-hazelnut-banana-crepes/
https://cookpad.com/uk/recipes/2613881-banana-and-chocolate-chip-crepes