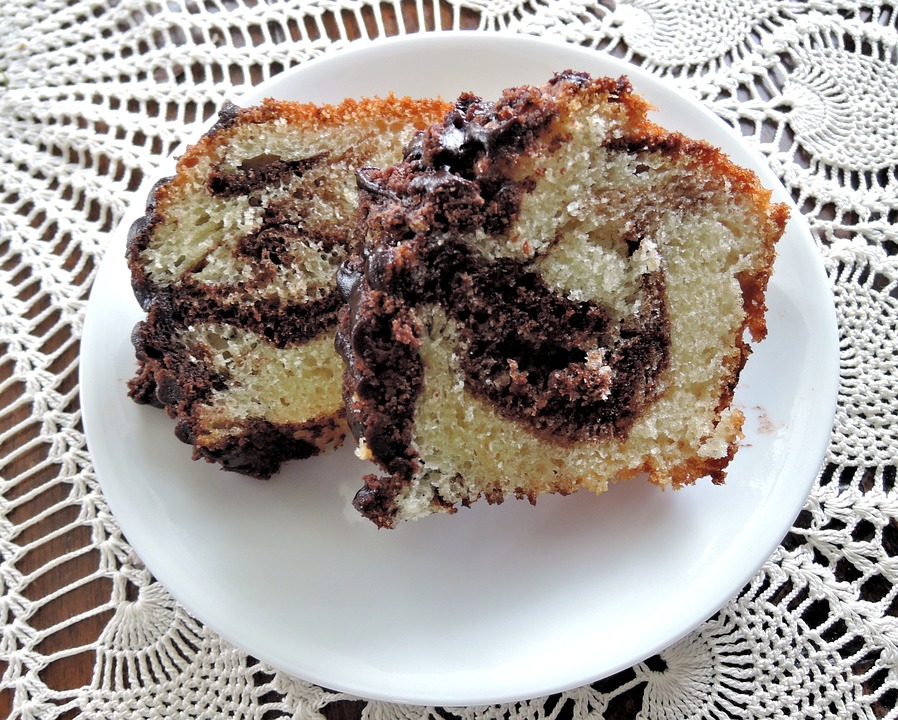 What I love the most about making Bundt cakes is that they are very simple to make. You whisk up some batter in a bowl and just transfer to an already well-greased Bundt cake pan and bake it off until done. The best part is that you can make different variations and play with flavors.
One of my winning combinations over a Bundt cake is chocolate and peanut butter – just match made in heaven that will amaze you and your guests. It is so dense and so peanut buttery that for sure you will ask for another slice.
Kids will definitely love this! It's one of the most wished kid's combinations – chocolate and peanut butter. Don't forget that you can bake a batch of this Bundt cake recipe, wrap it up in a plastic wrap, and gift it when you are invited at someone's friends gathering. You can play with flavors, but this winning combination is here is something that you are going to fall in love with.
Ingredients for Chocolate and Peanut Butter Marble Bundt Cake 
For the Bundt cake:
 ½ cup butter softened
 ¾ cup smooth peanut butter 
 7 oz. cream cheese softened
 2 cups granulated sugar
 1 tablespoon vanilla extract 
 6 eggs, room temperature 
 3 ½ cups of all-purpose flour 
 1 teaspoon of baking powder 
 ½ teaspoon salt 
 1 cup milk 
 A ½ cup of cocoa powder 
 ½ cup chocolate chip
For the chocolate glaze
4 oz. chocolate 
 ¼ cup heavy whipping cream 
 ½ teaspoon vanilla extract
How to Make Chocolate and Peanut Butter Marble Bundt Cake
Preheat your oven to 325 degrees F or 160 degrees C. Grease well a Bundt cake with butter and let it set aside until needed.
In a large mixing bowl, beat the butter, peanut butter, cream cheese, and granulated sugar all together until fluffy. Add in vanilla extract and eggs, one at a time beating well between each addition. Add in the flour, baking powder, salt and mix well. Add in the milk to lighten up the batter. Scoop out ¼ of the batter in another bowl and add in the cocoa powder and chocolate chips.
Pour the batters in the prepared Bundt cake pan swirling to make marbles in the Bundt cake and bake for about 60-75 minutes until a toothpick inserted comes out clean.
Let the Bundt cake rest until completely cooled.
In a bowl over a saucepan on medium heat melt together the chocolate, heavy cream, and vanilla extract. Pour the chocolate glaze on top of the cooled Bundt cake and serve.
To see other recipes for Chocolate and Peanut Butter Marble Bundt Cake, check out: 
https://www.hungrycouplenyc.com/2013/06/chocolate-peanut-butter-swirl-bundt.html
https://www.ladybehindthecurtain.com/peanut-butter-swirl-bundt-cake/
http://lemon-sugar.com/2015/08/chocolate-peanut-butter-swirl-bundt-cake.html/