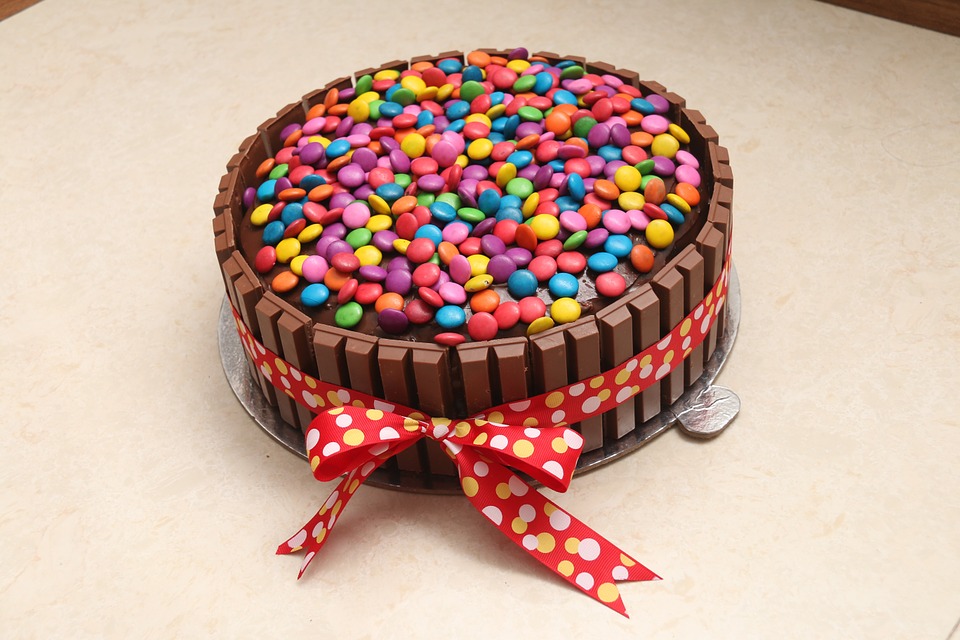 Kit Kat cake is one of the best chocolate cakes; you can have its magnificent taste, color with a soft and moist texture. The cake is a treat and bliss for the kids. It is the perfect cake recipe for any birthday party or a simple get together or even at a different event. Chocolate used in cake is really healthy sweet for your heart and really helpful in case you are feeling down. The recipe is simple and can be easily made. You can find most of the ingredients of the cake in your kitchen cupboard or refrigerator. The can be served to eight members.
This delicious chocolate reminds me of my mommy. She shared this recipe for the birthday party of my daughter on her birthday. My daughter likes candies very much, and my mom shared this recipe by keeping this in mind. When I made this beautiful and delectable chocolate cake, my daughter is now completely in love with this chocolate kit kat cake. This always brings a smile to her face, and it makes every mother happy to see her kid smiling. I suggest you make this delicious cake recipe. It is not just beautiful but also delicious.
The chocolate kit kat cake can be served in simple plates like any other dessert. The cake is complete and perfect that you do not need any other ingredients to garnish this beautiful recipe. The preparation time of the cake is about 50 minutes.
Ingredients for Chocolate Kit Kat Cake
Cake Mix:
1 cup all-purpose flour
1 cup sugar
3/4 teaspoon salt
1 1/3 cups water
2 tablespoons vegetable oil
1 teaspoon vanilla extract
1 cup sour cream
4 large eggs
1 stick salted butter, at room temperature
3/4 cups (3 ounces) cream cheese at room temperature
3 1/2 cups powdered sugar
1/4 cup milk
1 teaspoon vanilla
3/4 cup unsweetened sifted cocoa powder
2 (12 packs) of snack-size Kit Kat bars
12.6 ounces bag of M&M's
How to Make Chocolate Kit Kat Cake 
Preheat your oven to 325. Take two 9 inch round baking pan and six cups of muffin pan and grease and line them with paper. In a large bowl, combine cake mix ingredients: flour, sugar, and salt. Add and whisk the sour cream, water, oil, vanilla, and eggs for two minutes. Pour the batter in the muffin cups liners up to 3/4 of cups and pour the remaining mixture evenly into the round pans. Bake the cupcakes for about 25 minutes and cake for about 35-40 minutes. Then insert the toothpick inside the cake to know if it's cooked perfectly. 
Cool the cakes before icing. For the icing of the cake, take a bowl and beat cream cheese and butter until it becomes smooth. While beating, add powdered sugar gradually and pour vanilla and milk little by little. Beat the mixture until it becomes smooth and then add more milk if you want thick frosting. Apply this mixture at the top and sides of the cooled cake. Gently set the second layer and apply the frosting at the top and sides. Create a fence by placing the Kit Kat bars at the sides of the chocolate cake, leaving a small gap between them. Put M&M's at the top of the chocolate cake.
Enjoy the delicious Chocolate Kit Kat Cake!
To see the other recipes of Kit Kat Cake, check out the links below:
https://www.sugardishme.com/kit-kat-cake/
https://momvstheboys.com/2013/06/kit-kat-birthday-cake/
https://www.notanotherslipperydip.com/how-to-make-a-kit-kat-cake/