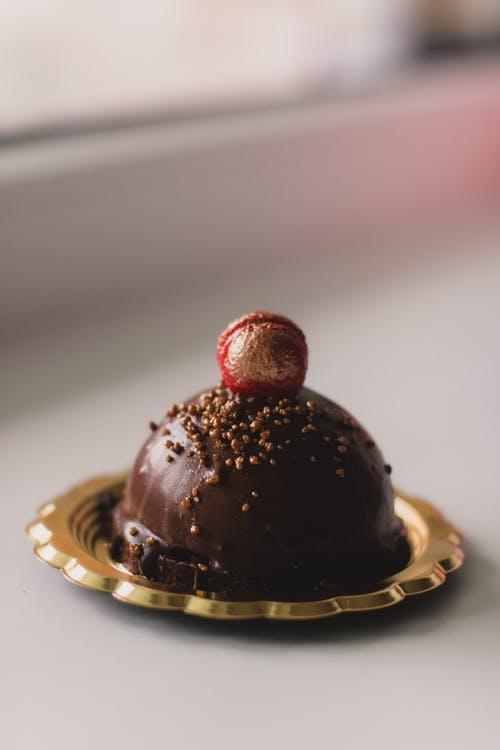 Chocolate mousse is one of the favorites in every house. I love making chocolate mousse recipes, and I am sure that anyone can do them. They are so delicious and, by the way, so easy to be put together. The only thing you need is, of course, so great quality of chocolate and some extra simple ingredients that most of you are having them in your kitchen.
Today's chocolate mousse recipe is something a little bit different. I am making a chocolate mousse in hemisphere molds, and I am adding it on top of the sponge almond layer, and making it even more decadent, I am pouring some delicious chocolate mirror glaze on top.
This recipe is so stylish that it will wow a crowd for sure. It is an elegant looking dessert that will make you a perfect home cook to the once you will present this chocolate mousse. Once you try this recipe, it will be a show-stopper in your house, and you are going to thank me later on this delicious and easy to make chocolate mousse recipe.
Ingredients for Chocolate Mousse Dome 
For the mirror glaze: 
 ¼ cup of water
1 teaspoon gelatin 
¾ cup of sugar 
¼ cup of cocoa powder 
100 ml. heavy cream
For the chocolate mousse:
250 grams dark chocolate 
50 grams butter 
 zest of a lemon or orange 
 1 teaspoon vanilla extract 
300 ml. heavy whipping cream
For the sponge part:
2 egg whites
50 grams almond flour or ground almonds 
50 grams icing sugar or powdered sugar
How to Make Chocolate Mousse Dome 
Preheat your oven to 350 degrees F or 170 degrees C. In a large mixing bowl, beat the egg whites alongside powdered sugar until stiff peaks form. Add in the almond flour or ground almonds and mix until well combined. Spread the mixture onto a baking sheet lined with baking paper and bake for about 15 minutes. Let it cool and cut circles for the chocolate mousse dome recipe.
To make the mirror glaze soak the gelatin in cold water. In a saucepan over medium heat place in water and sugar and bring to a boil. Whisk in cocoa powder and set aside. Bring to almost to a boil and add it to the cocoa syrup. Add in gelatin and whisk until melted and well incorporated. Let it cool in the fridge until completely set.
To make the chocolate mousse, in a Bain Marie, melt chocolate and butter together. Add in the zest of a lemon, vanilla, and mix all until combined. In another bowl, whisk in the heavy cream until stiff peaks form. Add half of the whipped cream in the melted chocolate mixture and combine until well incorporated. Add another half of the whipped cream in the chocolate mixture and whisk slowly being careful not to over mix the mixture. Pour the chocolate mousse into a hemisphere mold, and on top of each mousse, add a circle of the sponge you already baked, and let it set in the fridge for about 3-4 hours.
Reheat the mirror glaze until melted and pourable. Remove each mousse from the mold, and on top of each mousse, pour the mirror glaze. Let it sit for a couple of seconds and serve immediately.
To see other recipes for Chocolate Mousse Dome, check out: 
https://sortedfood.com/recipe/11727
https://mkr.7plus.com.au/chocolate-mousse-dome-with-cherry-sorbet
http://thesweetrebellion.co.za/chocolate-mousse-domes/