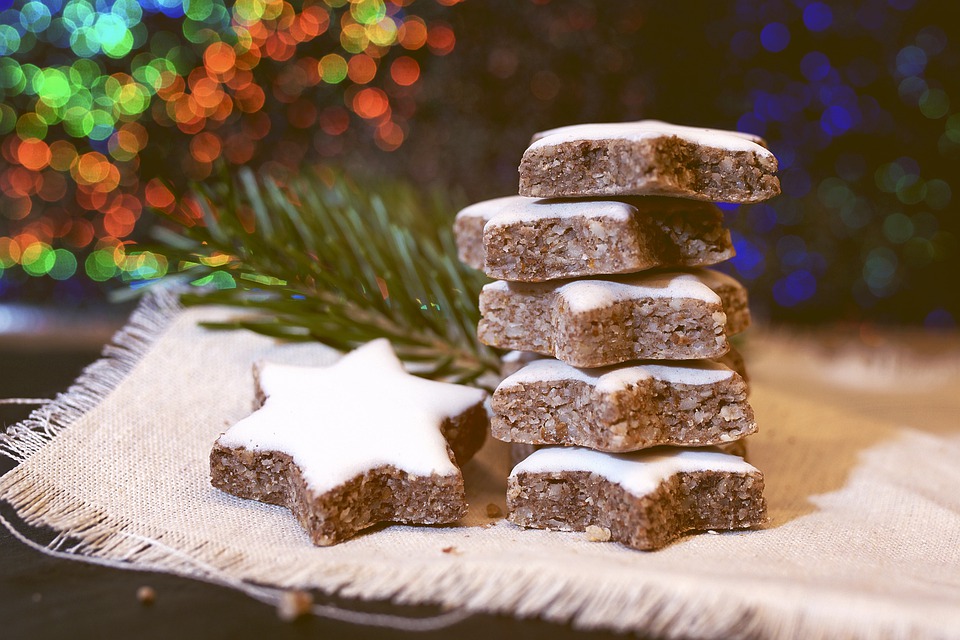 If you are looking for tasty cookies this holiday season that are gluten-free, then try making these Cinnamon Star Cookies.
They are sweet and delicious with cinnamon and nutty flavors. You can bake them in advance, store them in an airtight container, and just serve them when family or visitors come over. You can also put them in a nice box or tin can and give them as edible gifts.
Ingredients
2 large egg whites
zest from 1 lemon
1 teaspoon lemon juice
1 2/3 cups powdered sugar, extra for dusting
2 2/3 cups almonds, ground
2 teaspoons cinnamon
1 teaspoon ground ginger
How to Make Cinnamon Star Cookies
In a bowl, combine ground almonds, cinnamon, ginger, and lemon zest. Set aside.
In a separate bowl, beat egg whites until foamy. Add lemon juice while continuously whisking. Gradually add sugar and whisk until stiff peak forms. Reserve 1/4 of the meringue mixture to be used for icing later.
Fold in the ground almond mixture to the remaining meringue mixture in the bowl. Mix until dough forms.
To make the sticky dough manageable, wrap it in a plastic wrap and chill for about 30 minutes.
Preheat the oven to 300°F.
Get the dough from the fridge and remove the plastic wrap. Place a parchment paper on a work surface and dust it with powdered sugar. Sprinkle dough with sugar too, and then put another parchment paper on top.
Roll out the dough about 1/4 inch thick. Using a star cookie cutter, cut out the cookies and place them on the baking sheets lined with parchment paper.
Get the reserve meringue mixture and brush the top of each cookie. Bake cookies for 12 to 15 minutes at the oven's bottom rack until glaze sets but still white in color.
If you are afraid that the glaze would turn yellow or brown while baking, you can put an empty baking sheet on the top oven rack.
Remove cookies from the oven and transfer to a wire rack to cool completely. You can store them in an airtight container for up to two weeks.
To see other recipes for Cinnamon Star Cookies, check out: