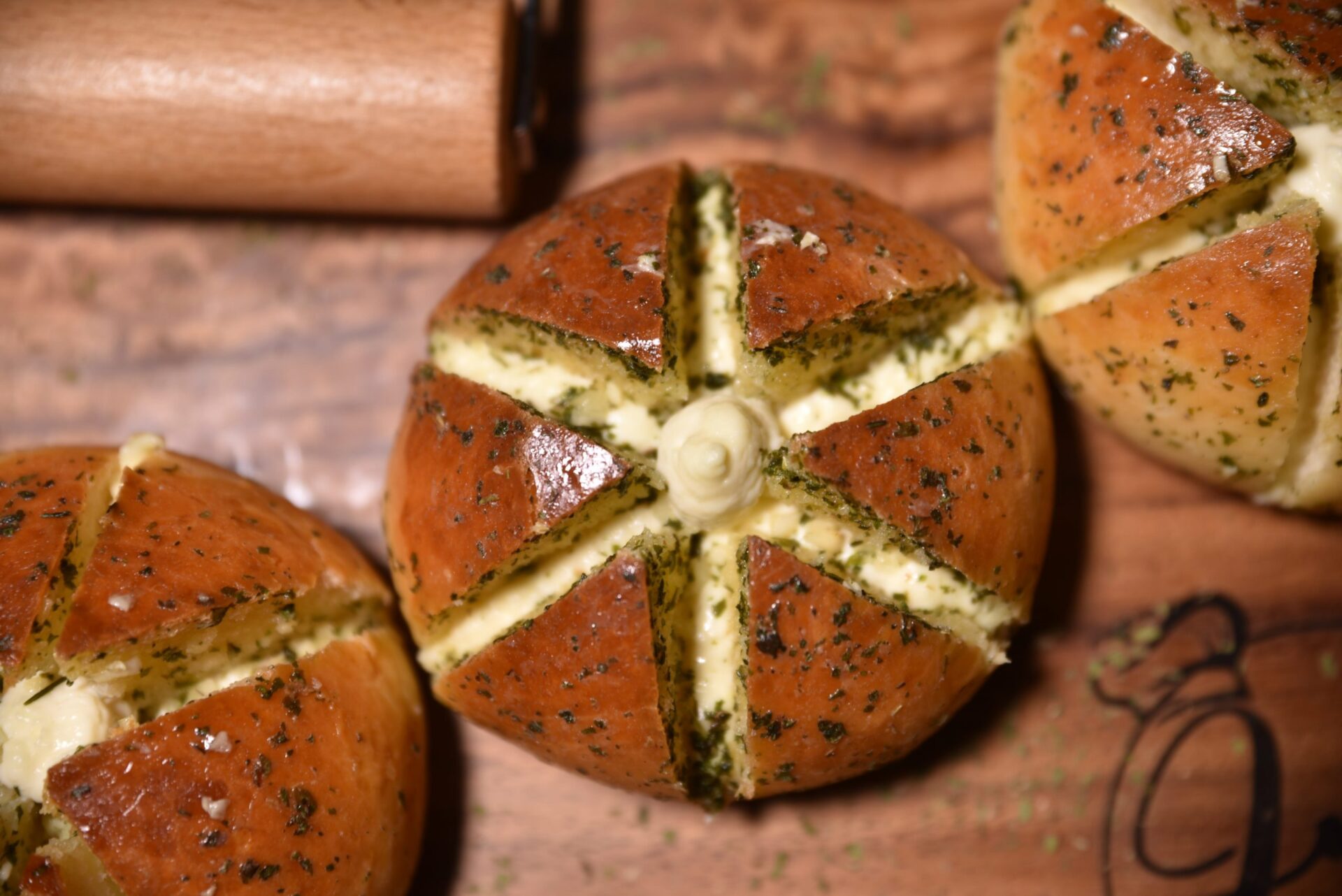 My husband and I saw this trending video about Korean Cream Cheese Garlic Bread, and he wanted to replicate it. He loves to cook savory dishes, but he is not into baking, though he decided to give this one a try because he likes garlic bread.
The recipe can give you six soft buns. The cream cheese filling was slightly sweetened with sugar that provides the bread a delicious and creamy flavor. But it does not end there because the garlic butter dip gives it another level of taste.
We use dried parsley on this recipe, but you can replace it with fresh ones, and you can add more or less depending on your preference.
Ingredients for Cream Cheese Garlic Bread
For the Bread Dough:
1/2 cup warm water
1/2 cup + 2 tablespoons fresh milk
1 egg
2 teaspoons yeast
3 1/4 cup flour
1/4 cup sugar
1 teaspoon salt
4 tablespoons butter
For the Cream Cheese Filling:
8 ounce package cream cheese
2 tablespoons sugar
1/4 cup heavy cream
For the Garlic Butter Mixture :
1 1/2 tablespoons parsley
2 tablespoons garlic, minced
1 egg
2 tablespoons sugar
1/2 cup butter, melted
2 tablespoons heavy cream
1/4 cup milk
Other Ingredients:
1 egg, lightly beaten (egg wash)
vegetable oil
extra flour for dusting
How to Make Cream Cheese Garlic Bread
In a large bowl, whisk water, milk, egg, and yeast.
In a separate bowl, mix flour, sugar, and salt, and then add to the wet ingredients. Mix until just combined, and then use your hands to knead the mixture for a few minutes until you form a dough. Add butter and knead again for a few minutes.
On a working surface dusted with flour, continue to knead the dough for 15 to 20 minutes until elastic. You can do a windowpane test to know your dough is ready to proof/prove.
Place dough in a bowl, grease with vegetable oil, and then cover with a kitchen towel or a plastic wrap. Let it rest for 45 minutes to 1 hour.
Once the dough has risen, punch it down to remove the air. Form a disk and divide the dough into six pieces. Shape them into a ball. Place them in a baking pan lined with parchment paper. Cover again with a towel or plastic wrap and let them rest for another 45 minutes to 1 hour.
When dough balls doubled in size, brush them with egg wash. Bake them for 20 to 25 minutes in a preheated oven at 180°C / 350°F until golden brown. Remove from the oven and allow them to cool.
Meanwhile, make the cream cheese filling by mixing cream cheese, sugar, and cream. Once combined, transfer the mixture to a piping bag or Ziploc and set aside.
Prepare the garlic butter dip by whisking all ingredients: melted butter, parsley, garlic, egg, sugar, cream, and milk. Set aside.
When buns are cool enough, cut them into six wedges using a serrated knife. Make sure the blade does not go all the way down because the bread needs to stay intact.
Fill each bread with cream cheese filling in between the wedges. The next step is to dip each bread into the garlic butter mixture—Bake for 8 to 10 minutes. Serve warm and enjoy.
To see the original recipe that inspired this one, check out the recipe for Cream Cheese Garlic Bread found at Jnu's Menu.