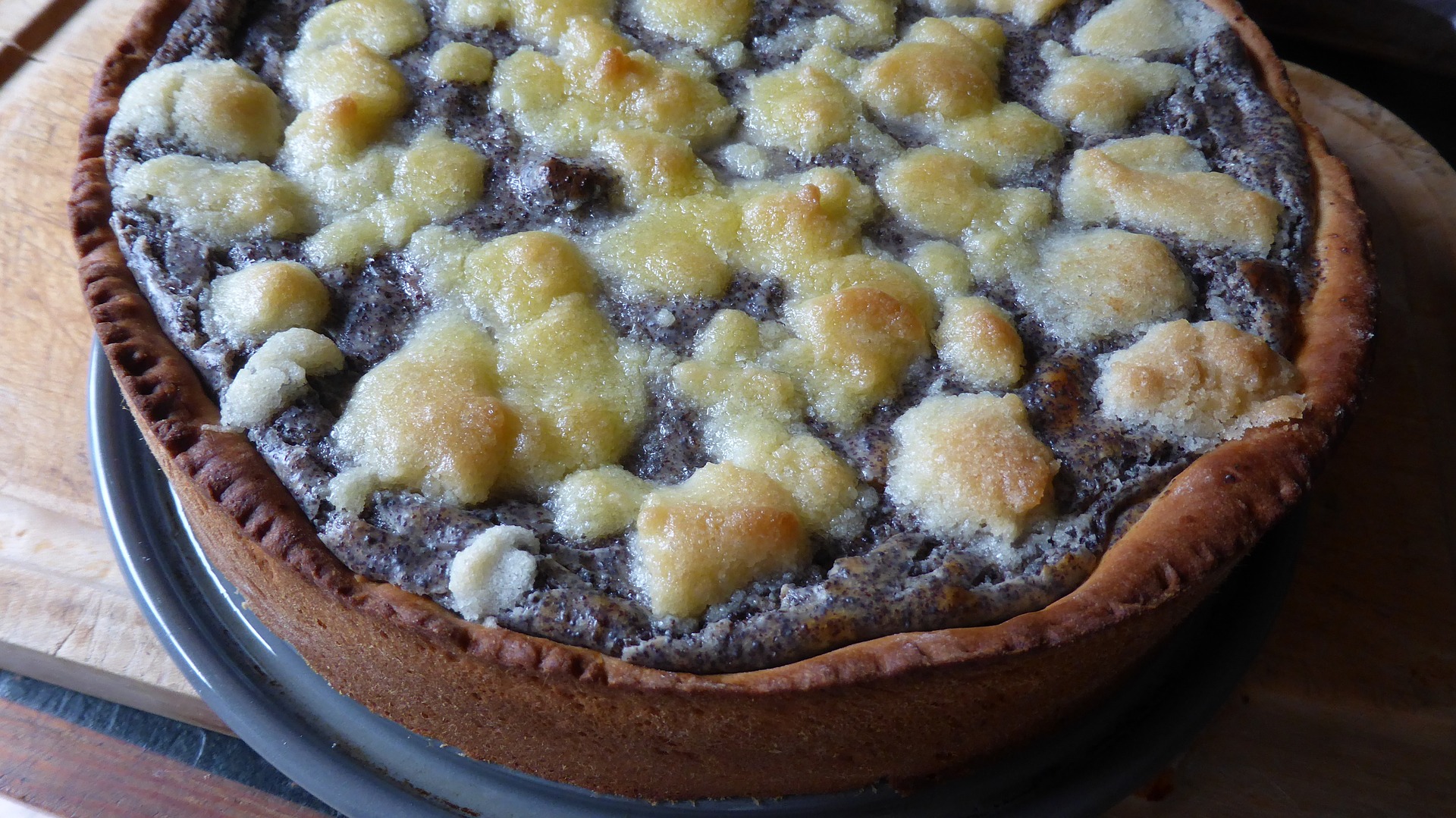 For poppy seed lovers, this is the ultimate cake for you. The layer of poppy seeds on this cake is very generous and will make poppy seed lovers go to heaven. This cake is also not overly sweet, although it contains sugar and thanks to the combination of pastry crumble and poppy seeds, the taste is more earthy and nutty. Perfect for a Sunday afternoon get together with family and friends and slice into 12 servings for your family and friends.
To be honest, I didn't really pay that much attention to poppy seeds. I usually use them as sprinkles on my bread, pancakes, etc. So, when a friend brought me this poppy seed cake, I was surprised by its taste. It's fluffy, delicious, and buttery. Of course, I had to make a recipe for it. And today, I want to share this recipe with you, and hopefully, it can bring joy for you and your family.
This cake on its own already has a rich taste, but a cup of tea is always a welcome addition and a great pair for this cake. The cake and tea taste compliments each other amazingly. If you're thinking about toppings, some fresh fruits like strawberries, blueberries, or any kind of berries are great for this cake.
Ingredients for Poppy Seed Crumble Cake
For the dough:
5.3 oz. quark
6 tablespoons milk
6 tablespoons canola oil
2 ½ cups flour
1 tablespoons baking powder
1/3 cup sugar
hint of salt
For the filling:
7 oz. ground poppyseed
4 tablespoons butter
4 tablespoon wheat semolina
4 tablespoons sugar
2 eggs
1 ½ cup milk
½ vanilla bean
a hint of cinnamon
For the crumbles:
¾ cup + 1 tablespoon flour
¼ cup butter (room temperature)
¼ cup of sugar
How to Make Poppy Seed Crumble Cake
Prepare the short pastry for the crumbles first because it needs to sit in the fridge for about 1 hour. In a bowl, combine the butter, sugar, and flour and knead into a dough. Form a ball and put it in the fridge. For the quark-dough, whisk the quark, milk, oil, sugar, and salt until well combined and creamy. Sift in the flour with the baking powder and knead to a soft dough.
For the poppy seed filling: In a pot, heat the milk and butter until the milk is about to boil and the butter is melted. Pour in the semolina, sugar, vanilla bean, and bring to a boil. Once boiling, quickly remove and let the mixture soak for about 5 minutes. Preheat your oven to 350°F. Next, pour in the ground poppy seeds and cinnamon. When the poppyseed filling is cooled down, crack the eggs and stir them in until well combined.
Now, all ingredients for the 3 layers are ready. Grease a 10-inch springform pan and on the bottom, spread the quark-dough. Top it with the poppy seed mixture and crumble the short pastry on top evenly. Bake for 25-30 minutes until the crumbles turn golden. Allow them to cool for a bit before you remove it from the springform pan. Cool completely before serving, and if you prefer, sprinkle with sifted powdered sugar. Enjoy.
To see other recipes for Poppy Seed Crumble Cake, check out:
http://www.sugaryandbuttery.com/2012/01/german-poppyseed-crumble-cake.html
http://www.theansweriscake.com/german-poppy-seed-cake/
https://www.quick-german-recipes.com/poppy-seed-cake-recipe.html