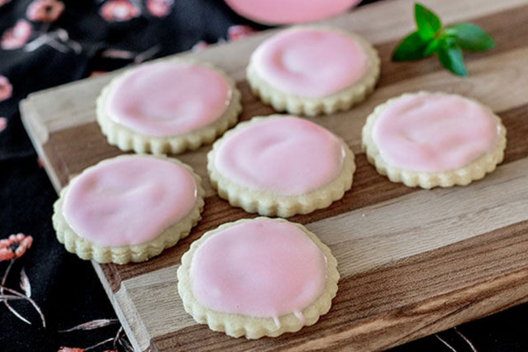 These frosted pink lemonade cookies are easy and delicious treats you can make in just 15 minutes. You can easily prepare them for your kid's snack after school or add them to a girls party sweet table or when you have a surprise visit from your grandchildren.
I remember making these at my granddaughter's birthday party. She loves pink, which I think most little girls do. Aside from the pink birthday cake I made, I added these treats on her sweet table, putting them in a glass cupcake stand, though you can use a beautiful wooden board or plank too. 
These are good ideas for an additional giveaway too. Just put them in clear plastic with a pink ribbon or with the color you prefer.
Ingredients for Frosted Pink Lemonade Cookies
1 ½ tablespoons milk
3 tablespoons Country Time Pink Lemonade Flavor Drink Mix
4 ounce Philadelphia cream cheese, softened
¼ cup butter, softened
 1 ½ cups powdered sugar
24 plain sugar cookies about 2-½ inch size
How to Make Frosted Pink Lemonade Cookies
In a large bowl, combine the milk and the pink lemonade drink mix. Stir until the lemonade mix is dissolved. Add the cream cheese, butter, and powdered sugar. Using an electric mixer, beat the mixture until blended—spread frosting on top of the cookies.
To see the original recipe that inspired this one, check out the recipe for Frosted Pink Lemonade Cookies found at myfoodandfamily.com.