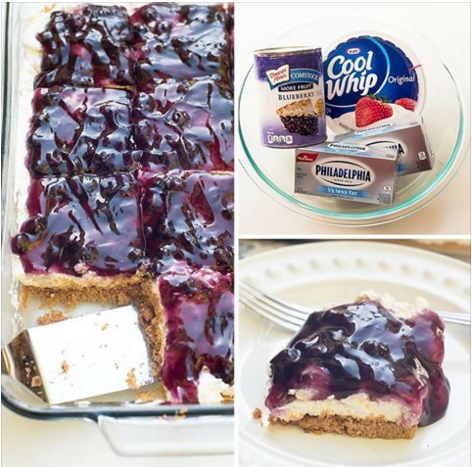 This Easy Blueberry Cheesecake Dessert is perfect for a special occasion, especially when you have a big family like me. You can bake this dessert in advance so you can just focus on the entrees and other dishes on the day of the gathering and save some time to tidy yourself.

The ingredients are simple, and they are something you may always store in your pantry. Though preparation and baking might take no longer than 30 minutes, you need to take note of the chilling time, that is why it is best to make it a day before the event.

This dessert is light and creamy and can make up to 12 servings.

Ingredients for Easy Blueberry Cheesecake Dessert
For the crust:
18 full sheets graham crackers or 3 cups graham cracker crumbs
1/2 cup butter, melted
1/3 cup sugar

For the cheesecake:
2 (8 ounce) package cream cheese, softened
1 cup powdered sugar
1 (8 ounce) frozen whipped topping, thawed
2 teaspoons vanilla
1 (21 ounce) can blueberry pie filling

How to Make Easy Blueberry Cheesecake Dessert

Break the graham crackers and pulse them on a food processor until they are crushed into fine crumbs. Add the sugar and melted butter and pulse again until well combined.

Transfer mixture in a 9×13 inch baking dish and using the back of a spoon or a wooden ladle, press down the graham cracker crumbs to form a crust—Bake in a preheated oven at 350°F for 10 to 12 minutes. Remove from the oven and cool completely before adding the filling.

Beat the cream cheese, sugar, vanilla until well combined. Using a spatula, gently fold the whipped topping in the mixture until blended. Spread the filling on top of the crust using an offset spatula. Next, add the blueberry pie filling and spread it out to cover the whole cream cheese mixture.

Cover the cheesecake with foil or plastic wrap and put in the fridge for 6 to 8 hours or overnight for better results. Cut into squares and serve.

To see the original recipe that inspired this one, check out the recipe for Easy Blueberry Cheesecake Dessert found at Valerie's Kitchen.