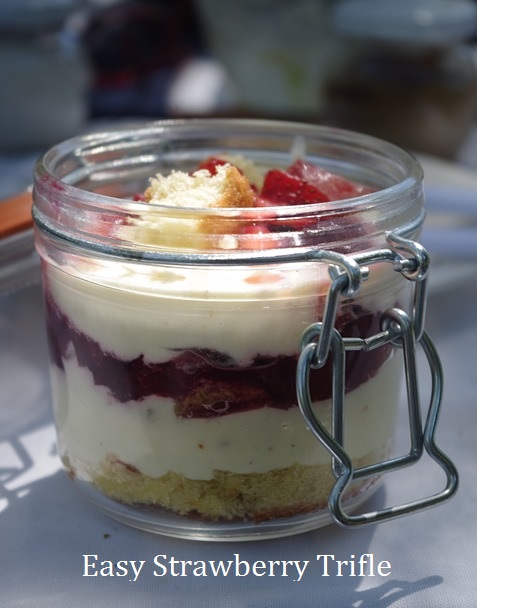 This is definitely a show-stopping dessert. It's easy to make, and the taste is just heavenly. It requires no baking and no cooking, a perfect dessert for a lazy day. It's great for picnics, gatherings, and parties. This Easy Strawberry Trifle recipe will make six delicious servings, but if you're hosting a party, I suggest to make more.
Strawberries are my family's favorite fruit. I wanted to make something special for my husband and kids, and this recipe is one of the research results on the internet. I know my family will be happy when I serve them this delicious dessert, and I hope it will bring happiness to your family too. 
For hubby and me, a glass of wine is the perfect companion for this dessert. The taste combines together well. If you want to add something to it, some fresh fruit is the way to go, although some melted chocolate will be divine as well. 
Ingredients for Easy Strawberry Trifle
1 loaf pound cake (cut into cubes)
1 cup heavy cream
3 tablespoons sugar
2 cups strawberries (chopped)
½ teaspoon vanilla
How to Make Easy Strawberry Trifle
Beat the heavy cream in a medium bowl until light and fluffy. Add the sugar and vanilla next and beat until soft peaks form. Divide the pound cake in half to assemble the trifle and distribute evenly between 6 individual serving glasses. 
Sprinkle half the strawberries on the top, then add a dollop of whipped cream. Repeat with the remaining pound cake, strawberries, and whipped cream. Double the recipe and assemble in a glass bowl or trifle dish if you're making for a crowd. The trifle can be made up to 3 hours in advance and refrigerated before serving. Enjoy.
To see other recipes, check out: 
https://tatyanaseverydayfood.com/recipe-items/easy-strawberry-trifle/
https://www.iheartnaptime.net/strawberry-shortcake-trifle/
https://butterwithasideofbread.com/easy-strawberry-trifle-recipe/