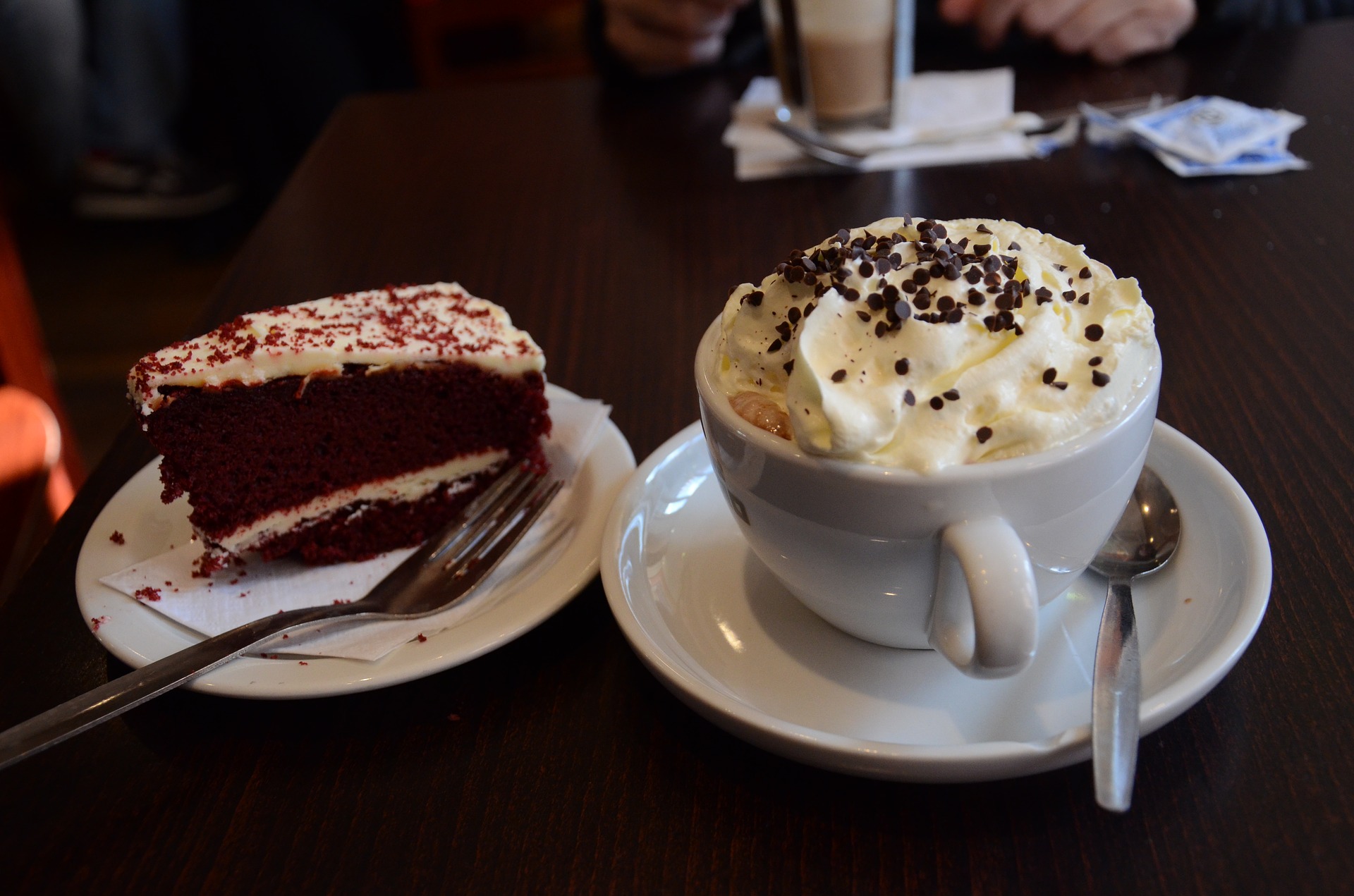 Now you can make this amazing eggless red velvet cake that's perfect for any occasion, and you can make it all year round. And today, we're going to make it without eggs. But make no mistake, it'll be just as delicious, creamy, and amazing as any red velvet cake you can find and with a reduced-calorie, a perfect diet dessert. This recipe will make 8 servings of delicious red velvet cake. Serve this to your family, and they won't even be able to tell that it's eggless.
Red velvet cake has always been a favorite in my family. We even look for them whenever we travel. With this recipe, I want to give my family something that I can modify myself, and today, it's an eggless day. And not to mention a healthier dessert for my husband and kids.
A glass of Pinot Noir is my perfect companion for this cake, although any red wine will basically go well with this delicious dessert. For the kids, I like to sprinkle some chopped chocolate, and they love it.
Ingredients for Eggless Red Velvet Cake
16 oz. condensed milk
10 oz. cream cheese
2 cups icing sugar
2 tablespoon edible food color
1 ½ cup all-purpose flour
1 teaspoon vanilla extract
1 tablespoon baking powder
1 teaspoon apple cider vinegar
1 cup butter
1 teaspoon vanilla essence
1 tablespoon cocoa powder
1 teaspoon baking soda
½ cup yogurt (curd)
½ cup of water
How to Make Eggless Red Velvet Cake
For the frosting, add cream cheese and a ½ cup of butter in a mixing bowl. Whisk until smooth. Add in the vanilla essence and then stir in the icing sugar gradually. Set it aside for later. If there are leftovers, you can store them in the refrigerator. Add 1 teaspoon of water if the mixture is thick.
For the cake, preheat your oven at 320 F. Prepare a 9" round baking tin, line with oil, then add cocoa powder, flour, baking powder, and baking soda. Stir well and set aside. Whip together condensed milk and a ½ cup of butter in a large bowl. Whisk until creamy, then add the red food color to it. Whisk again until smooth.
Gradually add the flour mixture in small batches to the condensed milk mixture while stirring constantly. Add the yogurt, 1 teaspoon icing sugar, and apple cider vinegar. Whisk until you have a batter-like consistency (about 2 minutes). Be careful not to over whisk the batter. Pour the batter into the tin and bake for until a knife or toothpick comes out clean (30 minutes). Allow it to cool once done and top with cream cheese frosting. Enjoy.
To see other recipes for Eggless Red Velvet Cake, check out:
https://recipes.timesofindia.com/recipes/eggless-red-velvet-cake/rs62886646.cms             
https://bakewithshivesh.com/red-velvet-cake/
https://www.foodnetwork.com/recipes/southern-red-velvet-cake-recipe-2011892