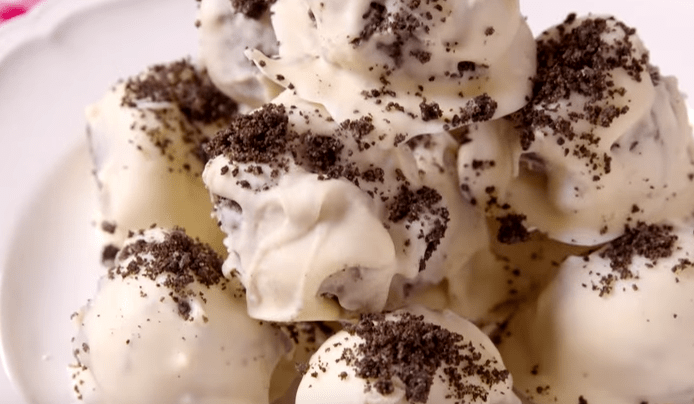 I have been looking around for some new and exciting bakes for you to try out for the Holidays and I have come across this recipe for these Three Ingredient Oreo Truffles that I think you will enjoy baking ..   they look so good that I could not pass it by with put sharing it with you
We have a category here on Afternoon Baking With Grandma  that is a cont down to  Christmas baking  so that you can easily reach the recipes that you want to have a go at making around the festive seasons
This great recipe has been brought to you by  Delish on YouTube and delish .com website thanks for sharing it with us
Here below is the recipe you will need  and the video tutorial both from the YouTube channel
INGREDIENTS
1 (15.5) oz. package Oreos
8 oz. cream cheese, softened
12 oz. white chocolate chips, melted
DIRECTIONS
Place Oreo cookies in a large resealable plastic bag. Using a rolling pin, crush the cookies until you have fine cookie crumbs.
Line a baking sheet with parchment paper. Combine cookie crumbs with cream cheese in a medium bowl, reserving about a 1/4 cup of cookie crumbs. Using a small cookie scoop, form small bowls with mixture. Place the balls on the baking sheet and freeze until slightly hardened, about 30 minutes.
Dip the frozen balls in melted white chocolate and roll around until the ball is completely coated. Place the truffles on the baking sheet and sprinkle with remaining cookie crumbs. Place in freezer until chocolate hardens, about 15 minutes.