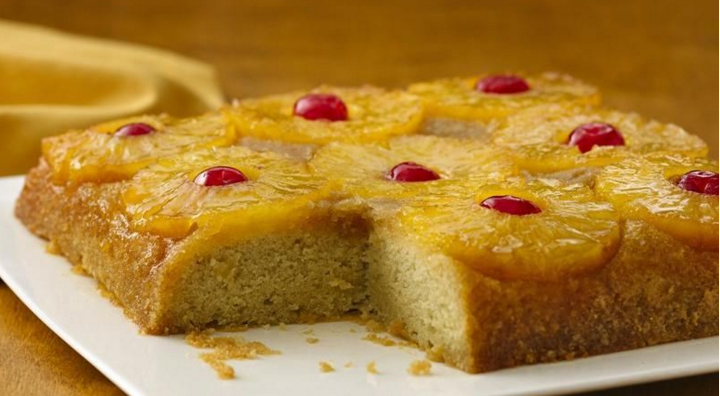 This pineapple upside-down cake recipe I am sharing today is an American classic, which is not so sweet and on the healthier side. This recipe is for those people looking for a delicious gluten-free cake.
This cake is lovely with the pineapple rings and cherries on top of a gooey caramel layer, but make sure you do the perfect flip to achieve that amazing look. I am using an offset spatula to loosen the cake from the pan, but you can also use a thin butter knife.
Each bite is so delicious with the moist cake combined with the sweet and tangy flavors of the fruits. And you can never run out of pineapple and cherries in the season because they are always available in cans, which we are using for this recipe.
Now, let's get baking!
Ingredients for Gluten-Free Pineapple Upside Down Cake
¼ cup butter
⅔ cup brown sugar
2 tablespoons light corn syrup
9 pineapple rings (from 16 ounce can), drained
9 maraschino cherries, drained
1 box or 15 ounce Betty Crocker™ Gluten Free yellow cake mix
½ cup butter, softened
⅔ cup water
2 teaspoons gluten-free vanilla
3 eggs
How to Make Gluten-Free Pineapple Upside Down Cake
Preheat the oven to 180°C / 350°F. Melt the ¼ cup butter in a 9-inch square pan. Add brown sugar and corn syrup, stir and spread evenly in the pan. Arrange the pineapple rings and then put the cherry in the center of each slice.
Using an electric mixer, beat the remaining ingredients, cake mix, ½ cup butter, water, vanilla, and eggs. First 30 seconds at a low speed, and then move it to medium speed for 2 minutes. Pour batter over the pineapple and cherries. Bake cake for 38 to 43 minutes until you see a golden brown surface or a toothpick inserted comes out clean. 
Run an offset spatula around the pan's side to loosen the cake. You can also use a thin butter knife if you don't have a spatula. Place your serving dish over the pan and then flip them together. Do not remove the pan yet; allow the syrup to drip over the cake for about 5 minutes. Remove the pan and let the cake cool for 30 minutes before serving.
To see the original recipe that inspired this one, check out the recipe for Gluten-Free Pineapple Upside Down Cake found at BettyCrocker.com