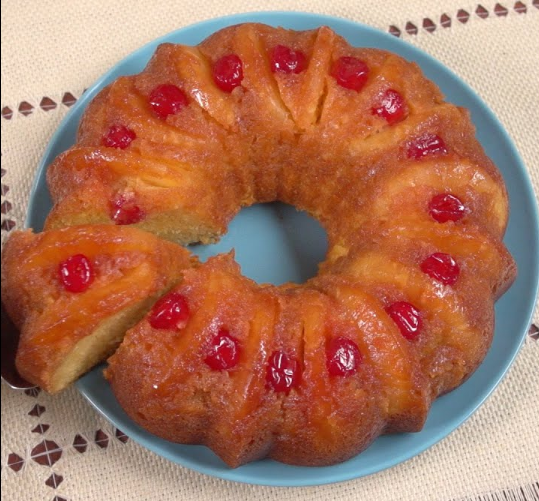 The perfect dessert recipe for a summer's barbeque. Not only it's bursting with tropical flavors, but it's also easy to make too. The title might throw you off a little bit but trust me, it's quite simple to make and you'll be finished in under 1 hour. Easily makes 8 generous servings for everyone to enjoy on your barbeque party.
I have a barbeque party coming up and I want to impress everyone with this dessert. I was just going to make a Bundt cake but an idea came to me; Why not add pineapple to give it that tropical feel and you can surprise everyone by this delicious dessert.
The best way to serve this cake is to just slice it and dig in. You can add your own toppings if you like, vanilla ice cream is a great choice or dust with cinnamon powder, maybe pour a bit of rum sauce for a little kick, it's up to you!
Ingredients for Pineapple Upside-Down Bundt Cake
½ cup butter (melted)
½ cup packed brown sugar
1 (20-ounce) can pineapple slices (juice reserved)
1 jar maraschino cherries
1 box yellow cake mix
1 (3.4-ounce) box vanilla pudding mix
3 eggs
⅓ cup vegetable oil
⅓ cup milk (plus more as needed)
How to Make Pineapple Upside-Down Bundt Cake
First, preheat your oven to 350 F. Spray a Bundt pan with nonstick spray. Into the bottom of the Bundt pan, evenly pour the melted butter and top with the brown sugar. Cut the pineapple rings in half and place into the butter-brown sugar mixture in the bottom of the pan, alternating with the cherries.
Combine the pudding and cake mixes in a large bowl. Next, add the reserved pineapple juice and milk then add the eggs and vegetable oil. Mix until fully blended. Pour the batter over the pineapple and cherries evenly. Bake by following the cake mix instructions for a Bundt pan for 30 minutes, until an inserted toothpick comes out clean. Cool the cake for about 10 minutes and then run a knife around the edges and the inner ring of the pan. To serve, invert onto a serving plate and slice between pineapple rings.
To see the original recipe that inspired this one, check out the recipe for Pineapple Upside-Down Bundt Cake found at TipHero.