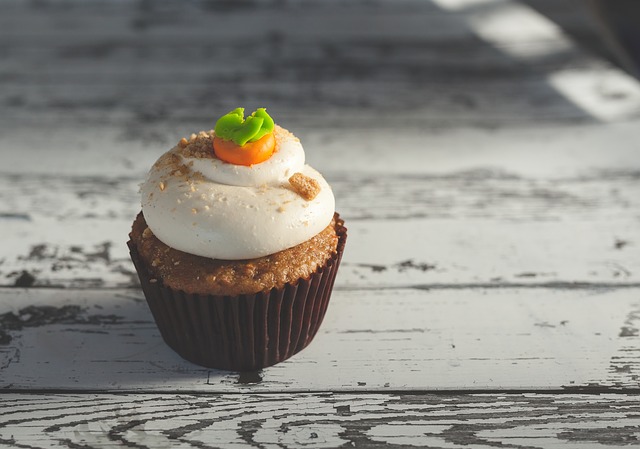 Carrot cake is one classic recipe that will always be in. The best thing is that there are so many different versions, and everyone can pick the one that works for them. If you are looking for a healthy recipe that will not add up the calories, then this is certainly the thing for you. The right balance of ingredients offers you an excellent taste and texture, while still being healthy.
This time, you can give this classic recipe a quick update and use the muffin tray instead. Top it with rich and decadent whipping cream, and there you have the best healthy carrot cake cupcakes. Make sure that you use good quality cinnamon so that the taste will be irreplaceable. Kids will absolutely love these, so it will be a nice chance for a treat that offers some quality nutrients. But, adults will not remain unimpressed as well. Bake a whole batch for your family, and watch them enjoy the fluffy and spongy bites.
This is one of the recipes that are not time-consuming, and will not leave your kitchen with a huge mess afterward. I am pretty sure that this part was the thing that you wanted to hear, so head down to the kitchen and bake some goodies!
Ingredients for Healthy Carrot Cake Cupcakes 
1 ½ cup flour 
 ½ teaspoon baking soda 
  ½ teaspoon salt 
 1 teaspoon of ground cinnamon 
 1/3 cup granulated sugar (or you can use light brown sugar) 
 ½ cup raisins 
 ½ cup applesauce 
 1/3 cup vegetable oil 
 2 teaspoons white wine vinegar 
 2 teaspoons vanilla extract 
 1 packed cup shredded carrots
For decoration:
1 cup heavy whipping cream
How to Make Healthy Carrot Cake Cupcakes 
Preheat your oven to 350 F or 175 C degrees. Grease well muffin tin with butter and set aside.
In a large bowl, combine the dry ingredients: flour, baking soda, salt, and ground cinnamon.
In another bowl, combine sugar, applesauce, vegetable oil, vinegar, vanilla extract, and carrots. Mix them well and slowly add the dry ingredients into the wet ingredients stirring well until combined. In the end, add in raisins and, with the help of an ice cream scoop, scoop out some of the batter and fill the muffin tray. Let them bake for 15-20 minutes or until golden brown. Let them cool completely before you add heavy whipping cream on top and garnish as desired.
To see other recipes for Healthy Carrot Cake Cupcakes, check out: 
https://chocolatecoveredkatie.com/2015/04/01/healthy-carrot-cake-cupcakes/
https://happyhealthymama.com/healthy-carrot-cupcakes-with-maple-cream-cheese-frosting.html