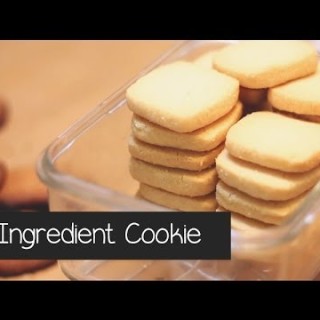 These delicious and buttery cookies are made using three ingredients only: butter, flour, and sugar. The preparation can take 3 minutes only, but you need to note the refrigeration and baking time when you want to serve these cookies to your family or friends coming over.

If you are having a hard time shaping your cookies into squares, this hack might help. Put a plastic wrap into an empty foil or plastic rectangular box. Press the dough into the box.

It would also help to turn the cookie log after a couple of slices to maintain the square-cut because this allows the pressure to be distributed evenly.

Ingredients for 3 Ingredient Cookies

3/4 cup butter, room temperature
1/2 cup powdered sugar
2 1/4 cups all-purpose flour

How to Make 3 Ingredient Cookies

Using an electric mixer or hand mixer, beat sugar and butter at medium speed until the mixture is pale yellow and fluffy. Scrape the side of the bowl using a spatula and add the flour. Beat until the mixture turns into a crumbly texture. Transfer the mixture to a working surface and knead it until crumbs come together and form into a dough.

Using the empty plastic or foil box hack, you can shape your dough into a rectangular log or try your best to shape it with your hands. Once you get the shape that you want, coat the dough with sugar. You can use parchment or wax paper sprinkled with sugar and roll it.

After coating, wrap it with plastic wrap or put it back into the box with plastic and refrigerate for about 30 minutes until firm.

Remove the plastic and cut the log into 1 cm thick. Place cookies on a baking sheet and bake them in a preheated oven at 325°F for 20 minutes or until light golden brown.

To see the original recipe that inspired this one, check out the recipe for 3 Ingredient Cookies found at Joyce Yvonna.