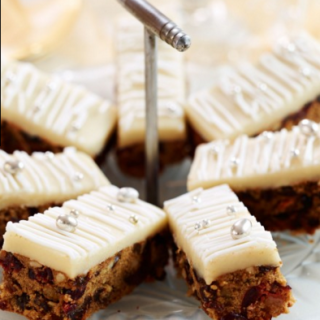 Christmas Cake Tray Bake is not your traditional fruit cake. It has mixed dried fruits and spices, but instead of putting nuts, the marzipan gave the cake the nutty flavor. The cake looks festive with the royal icing and sugar balls decorations on top.

This cake is also a shortcut version because there is no need to soak dried fruits for a very long period of time.

Ingredients for Christmas Cake Tray Bake

1/2 cup + 1 tablespoon of butter, softened
10 1/4 tablespoons golden caster sugar
3 small eggs
1 cup + 2 tablespoons flour
2 ounce mixed dried fruits
1 teaspoon mixed spice

For Garnish
1 tablespoon sieved apricot jam
10 ounce marzipan
7 ounce royal icing sugar
silver sugar balls

How to Make Christmas Cake Tray Bake

Preheat the oven to 325°F. Line a 7×11 traybake tin with parchment paper.

Beat the butter and sugar until light and fluffy. Add one egg at a time, and then fold in the flour, fruit, and spice. Stop mixing when you have a soft dropping consistency.

Pour mixture into the prepared traybake tin and bake for 45-50 minutes. When the cake is firm to touch, remove from the oven, and cool completely.

Brush the top of the cake with apricot jam. On a lightly dusted work surface, roll out the marzipan and cover the top of the cake.

Prepare the royal icing as per package direction and put it in a small piping bag. Cut a small hole at the end and drizzle icing over the cake. Garnish with the sugar balls.

Cut into slices and place on a cake stand or platter.

To see the original recipe that inspired this one, check out the recipe for Christmas Cake Tray Bake found at Woman & Home.