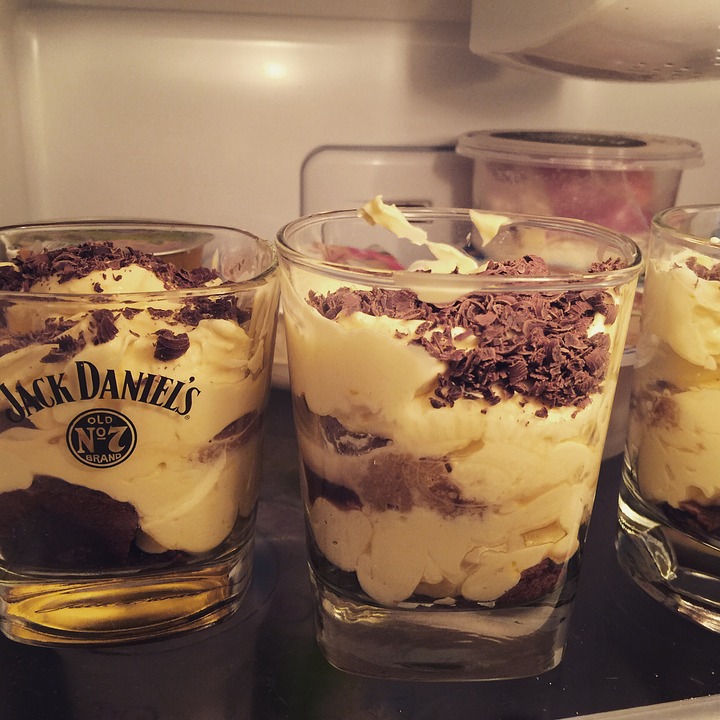 This dessert contains a generous amount of whiskey, so before you continue with the recipe, I must tell you that it packs quite a punch. Delicious Italian classic combined with American whiskey makes this tiramisu one of a kind. This recipe will make 4-6 servings of creamy and delicious tiramisu.
I think there's not a single person that I've met that hasn't eaten tiramisu. It's such a staple dessert, and every bakery everywhere will have their version of it on their display. But I bet a Jack Daniels Tiramisu is quite new to you. I'm hosting a small party with our closest friends, and I want to surprise them with this dessert. 
Wine is always an excellent pair for tiramisu, but considering that we already have some alcohol in them, coffee can be your option. If you want to add just a bit of bitter taste to it, chop up some dark chocolate and sprinkle on top of it. 
Ingredients for Jack Daniels' Tiramisu
Zabaglione:
6 egg yolks
¾ cup of sugar
2 tablespoons Kahlua
17.6 ounces mascarpone cheese
1 cup cream
1 teaspoon vanilla extract
Syrup:
1 cup boiling water
2 tablespoons sugar
1 heaped tablespoon Italian coffee
3 tablespoons Jack Daniels
(Mix together till sugar dissolved. Set aside to cool). Pour into a flat dish.
Boudoir biscuits
Cocoa for dusting
How to Make Jack Daniels' Tiramisu
Prepare a saucepan and heat on your stove. Add the egg yolks and sugar and whisk until combined, then bring to a boil. Continue stirring until thickened. Remove from the heat and whisk in Kahlua then allow it to cool. To avoid skin forming, cover the custard directly with cling wrap onto the custard and refrigerate for 1 hour.
Beat the mascarpone in a stand mixer until smooth on medium speed for about 1 minute. Add the cream and whip for 5 minutes, until stiff. Then add the vanilla and beat on low until combined. Using a spatula, fold in custard until well combined.
Dip the biscuits one by one but do not soak the biscuits and line a 7×11 dish then add half of the mixture. I scattered grated aero bubble mint at this point. Dip and add another layer of biscuits and then the zabaglione mixture. Dust with cocoa and refrigerate for 24 hours. Serve and enjoy.
To see other recipes for Jack Daniels' Tiramisu, check out: 
https://www.stilpalast.ch/savoir-vivre/genuss/jacks-whiskey-tiramisu-6372#sthash.mZZouN5C.ORORXb4U.dpbs
https://esmesalon.com/jack-daniels-tiramisu/