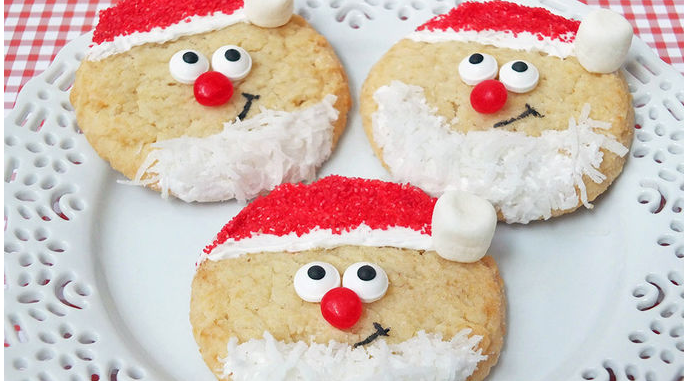 Welcome to 24 days Of Christmas Baking .. a count down to baking wonderful recipes for the family and friends to enjoy 
I love Christmas baking so I wanted to find you some recipes that I think you may love and share one with you each day ..
 Day 12

 ….

Santa Sugar Cookies 

I  really love these Santa sugar cookies, children will love to make them .. they are such fun to make together .. I think these cookies will be great to make Christmas Eve with the family just to get in the Christmas spirit, they will be so good to have with a glass of milk or a mug of latte

What a love about this recipe is it is so easy as you can use store brought cookies but of course you could make your own  sugar cookie mix

Here is a link to make a basic sugar cookie dough

http://www.marthastewart.com/338471/basic-sugar-cookies

This great recipe has been brought to you by tablespoon.com website ,thanks for sharing this recipe with us

Here below is an excerpt about this recipe from the website plus a list of the ingredients you will need  .. happy baking
Store-bought cookies all dressed up for the holidays!
Ingredients
Store-bought sugar cookies
1 (16 ounce) container Betty Crocker™ Rich & Creamy vanilla frosting
24 candy eyes
12 cinnamon imperial candies
Red sugar sprinkles
Approximately 1/4 cup sweetened shredded coconut
12 miniature marshmallows
Black edible marker