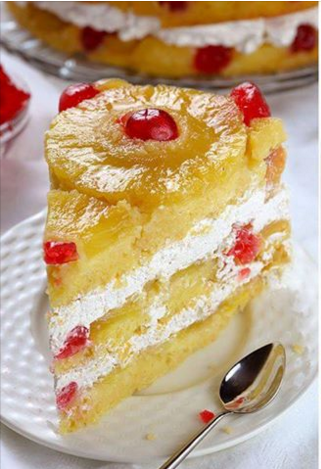 April 20 is National Pineapple Upside Down Cake Day, and to celebrate this holiday, this is my version for this cake. It has a buttery sugar topping with juicy caramelized pineapple and cherries, layered with vanilla cake with cinnamon whipped cream filling.

This is not the traditional recipe, but it is still worth baking because it is delicious.

Read some interesting facts about Pineapple Upside Down Cake at foodimentary.com.

Ingredients for Pineapple Upside Down Cake
For the topping:
9 tablespoons unsalted butter, melted
1 cup packed light brown sugar
3 (20 oz) can pineapple rings, reserved juice
25 large maraschino cherries, halves

For the cake:
2 1/4 cups all-purpose flour,sifted
3 tablespoons cornstarch
1 1/2 teaspoon baking powder
1/2 teaspoon salt
3/4 cup packed light brown sugar
3 tablespoons granulated sugar
9 tablespoons unsalted butter, melted
3 eggs
1/2 cup plain Greek yogurt
3 tablespoons milk
6 tablespoons reserved pineapple juice
1 tablespoon vanilla extract

For the filling:
2 cups heavy whipping cream
1/2 cup powdered sugar
2 teaspoons cinnamon
2 teaspoons vanilla extract

How to Make Pineapple Upside Down Cake

Preheat the oven to 350°F and grease three 9-inch round pans using 9 tablespoons of butter divided into three. Sprinkle ⅓ cup of brown sugar in each pan. Arrange 8 pineapple rings on each pan and put the cherries on the center of each slice as well as on the sides. Set aside. You can repeat the process to a single pan if you don't have three.

Using a large bowl, start making the cake batter by mixing sifted flour, baking powder, cornstarch, and salt. Set aside. In a separate bowl, whisk together melted butter and sugar until you form a sand texture. Add eggs, yogurt, milk, pineapple juice, and vanilla extract and mix well. Gradually add dry ingredients until no lumps are seen. Divide batter and pour over the three pans. Bake for 30 minutes until a toothpick inserted comes out clean. Invert one cake pan into a serving plate and the other two on a wire rack to cool them completely.

While waiting for the cakes to cool down, make the filling. Beat heavy whipping cream using an electric mixer until soft peak form. Add sugar, cinnamon, and vanilla extract and continue to beat until stiff peaks form.

Assemble the cake. Spread half of the whipped cream on the first layer on the serving plate. Put the second cake layer and spread the remaining whipped cream. Put the last layer of cake.

The cake can be stored in the fridge for up to 3 days.

To see the original recipe that inspired this one, check out the recipe for Pineapple Upside Down Cake found at OMG Chocolate Desserts..