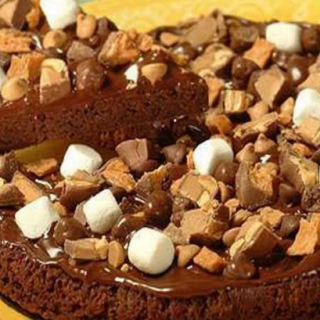 Want to know how to make a sweet pizza recipe ? well this is taken pizza to another level and having a pizza brownie with some peanut topping , great to make for a fun dessert for the family as I am sure everyone will love it especially the children.
A really easy recipe to make , this recipe is brought to your foodista  website, thanks for sharing this recipe with us , here is an excerpt about this recipe from the site
This Peanut Buster Pizza Brownie is a perfect yet easy brownie recipe for a sweet weekend with the family. When I made it for the first time, it surprised my husband and kids and particularly my mother as they never expected a "sweet pizza". Now it's a staple for my family whenever they want to have a unique and unusual dessert. Preparing it is just a 45 minutes simple and easy exercise. You just have to prepare the brownie, bake it and then add and sprinkle the ingredients; it's ready!
To see how to make this pizza please use the next page link below