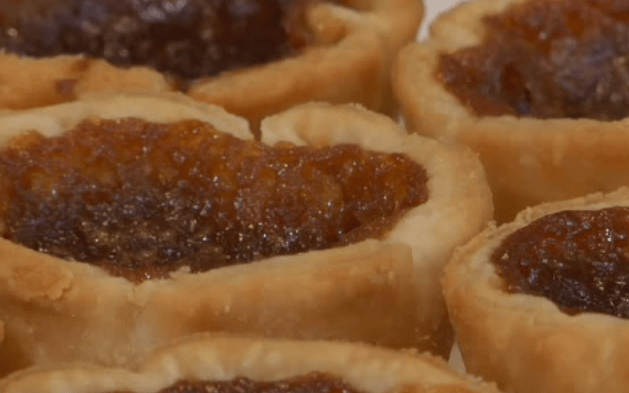 By requested I was asked to find a butter tart recipe and I think I found a great recipe for you all not only is there a full recipe but also a video tutorial to watch as well as it is brought to you by legourmettv on YouTube , so I really hope this is what you are looking for and every fellow baker out there enjoys this recipe I found
Thanks for sharing this amazing recipe with us
Here below is a excerpt and the recipe and video tutorial to watch
If you are Canadian you probably love butter tarts and youll have a favourite recipe or at least many fond memories of eating them. This is the first of a series that looks at variations on this recipe; some like them runny, some like them firm – a battle rages on about how they should be made.
Ingredients:
1 egg beaten
1/3 cup butter
1 cup brown sugar, packed (dark or light)
2 tlb milk
1/2 cup raisins or currents (optional)
1 tsp vanilla
Method: Prepare pie crust using the 3-2-1 recipe Roll out pie crust 1/8 inch thick and cut into rounds suitable for your tart pan.
Press the rounds into your prepared pan and chill.
Preheat oven to 450ºF Mix egg, butter, brown sugar, and milk.
Place raisins or currents into some, all or none of the shells as you wish.
Add filling until 2/3 full.
Remember to wipe any spilled filling off of the pan surface.
Place into oven and cook for 8 minutes.
Reduce heat to 350ºf and bake for 15 to 20 more minutes until pastry is a golden brown.
Remove from oven.
Cool for a few minutes in pan then remove to finish cooling on cooling rack.
Photo Source