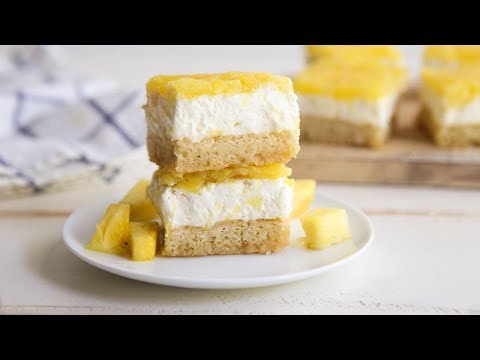 I am always on the look out for new and interesting recipes for you all that are easy to make with amazing results , so I was pleased to find this recipe for Pineapple Cheesecake Blondies.. so easy to make and delicious too
Sometimes I just like to follow a recipe that is a video tutorial rather than a written recipe as you can see what the end result looks like and with these Betty Crocker recipes that are on YouTube I just love them it give you the ingredients as the recipe is shown so easy to follow with amazing results every time
As I said this recipe comes from Betty Crocker on YouTube so thanks very much for sharing it with us
Here below is the video tutorial to watch .. Happy Baking
Ingredients Blondie Crust
1 pouch Betty Crocker™ Cookie Mix Sugar
1/2 cup butter, softened
1 egg
Cheesecake Layer
1 package (8 oz) cream cheese, softened
1/2 cup sugar
1 teaspoon vanilla
1 1/2 cups heavy whipping cream
Pineapple Topping
1 box (4-serving size) Jell-O™ gelatin pineapple-flavored
1/2 cup boiling water
1 can (20 oz) crushed pineapple, undrained
Steps
1. Heat oven to 350°F. Spray 13×9-inch (3-quart) baking dish with cooking spray.
2. In large bowl, beat Blondie Crust ingredients with electric mixer on high speed to a crumbly dough. Press in bottom of baking dish. Bake 20 to 25 minutes or until edges are lightly golden brown and center appears dry. Cool completely on cooling rack, about 30 minutes.
3. In medium bowl, beat cream cheese, sugar and vanilla with electric mixer on medium speed until smooth. Set aside. In small bowl, beat whipping cream on high speed to soft peaks, then fold in to cream cheese mixture. Spread on top of cooled blondie crust.
4. In medium bowl, mix gelatin and boiling water with whisk until gelatin is dissolved. Add pineapple. Spoon mixture evenly on top of cheesecake layer. Refrigerate at least 2 hours until completely set. Cut into 6 rows by 4 rows, and serve.