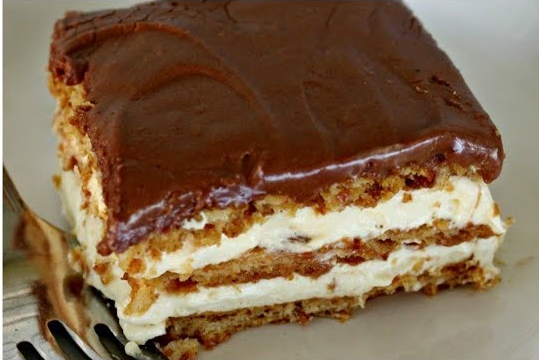 This recipe represents a French classic, transformed into something that is simple, easy and fast to prepare, perfect for the busy lives we are living in. Made with just a minimum amount of ingredients, this No bake Éclair cake is ready in less than 10 minutes.
Just layer some graham crackers, pour in instant vanilla pudding and top the whole cake with delicious and gorgeous chocolate frosting. Doesn't that sound great?
If you have last minute guest coming over, don't worry, you have the perfect recipe to leave a good impression. With a tasty and delicious recipe like this, fast and easy to prepare you will end up with empty plates and even people will ask for an extra slice. I warmly recommend you to double the dose and make everyone happy!
Crunchy layer of the graham crackers, smooth and rich vanilla pudding filling in the middle of each layer and delicious chocolate frosting on top is everything you need for your upcoming party.
Ingredients for No Bake Éclair Cake 
For Éclair base and filling:
1 package (450g.) graham crackers
3.4 oz. instant vanilla pudding
3 ½ cup cups milk
8 oz. cool whip
For the frosting:
3 tablespoon cocoa powder
1 ½ cups of confectioner (icing or powdered) sugar
3 tablespoons of butter, at room temperature
3 tablespoon of warm milk
How to Make No Bake Éclair Cake 
Mix pudding and milk in a bowl together and set aside to set for about 2-3 minutes. Then with a wire whisk fold in the cooled whipped cream and mix until combined.
Spray 9×13 inches pan with cooking spray and place a layer of graham crackers on the bottom of the pan. Top with half of the pudding mixture and repeat the process one more time (a layer of graham crackers and another half of the pudding mixture). Finish this No Bake Éclair Cake with the final layer of graham crackers.
Make the frosting in a bowl by combining all of the frosting ingredients together and mixing them until combined and smooth pourable texture forms. Cover the last layer of graham crackers with the frosting mixture and chill overnight or a minimum of 8 hours.
To see the original recipe that inspired this one, check out the recipe for No Bake Eclair Cake found at Six Sisters' Stuff.