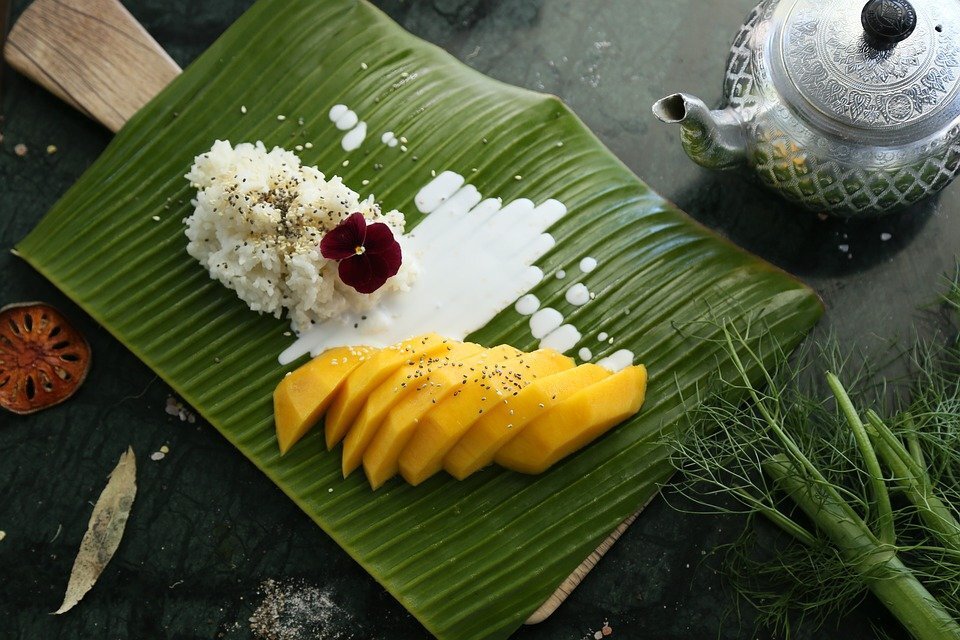 Rice is a staple food in many Asian countries. You can serve rice from breakfast to dinner and even for dessert, just like this Mango Sticky Rice, which is a popular one in Thailand. It is made with fresh sweet mangoes, fresh or canned coconut milk, and glutinous rice, which gets sticky when cooked.
Ingredients for Mango Sticky Rice
1 cup long-grain glutinous rice (about 250g)
Sweet Coconut Milk Mixture
3/4 cup fresh or canned unsweetened coconut milk
1/2 cup granulated sugar
1/4 teaspoon salt
Salted Coconut Sauce
1/2 cup fresh or canned unsweetened coconut milk + 1 tablespoon
1/4 tsp salt
1 teaspoon cornstarch
To Serve:
3 mangoes, sliced
black and white sesame seeds, (toasted and optional)
How to Make Mango Sticky Rice
To prepare the rice, rinse and drain it with cold water about 3 to 5 times until the water runs clear. Submerge the rice with water and put it in a room temperature spot in your kitchen for about 4 hours or up to overnight.
Fill the steaming pot with 2 inches of water and bring to a boil over high heat. Drain the rice and place it in the steamer lined with cheesecloth. Cover the rice with the cloth before putting the steamer lid—Cook for about 25 minutes.
In the meantime, make the sweet coconut milk mixture by combining all ingredients: coconut milk, granulated sugar, and salt in a small saucepan. Cook over medium heat while continually stirring until sugar is dissolved. Set aside and cover with a lid to keep it warm.
Transfer the rice to a bowl once cooked and mix it with the coconut milk mixture. It may look a little bit liquidy, but the rice will absorb the coconut milk later. Cover the rice with aluminum foil and set aside for 20 minutes. Remove the foil and stir and cover it again for 10 minutes or up to 2 hours.
Meanwhile, cook the salted coconut sauce. Combine 1/2 cup coconut milk and salt in a small saucepan and cook over medium heat. Cook until hot. In a separate small bowl, dissolve cornstarch in the 1 tablespoon of coconut milk by stirring until there are no lumps. Add to the hot coconut sauce and quickly stir again until the sauce thickens.
To serve, place the rice on a plate and top with the salted coconut sauce. Put the sliced mangoes next to the rice and if using, sprinkle the toasted sesames over the rice.
To see other recipes for Mango Sticky Rice, check out: