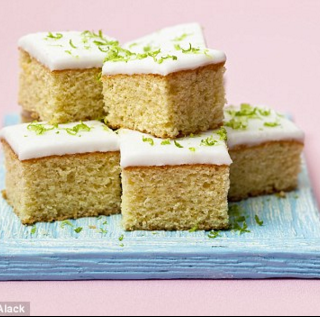 Enjoy another spongy cake treat with delicious citrus flavor for your afternoon tea time with this Iced Lime Tray Bake by Mary Berry. This recipe can make 12 squares, which is perfect for sharing.

The recipe is very easy to follow and will give you perfect results every time. If you can't find self-rising flour, you can substitute it with every 1 cup or 4.25 ounces of all-purpose flour, plus one and a half teaspoon of baking powder and 1/4 teaspoon of salt.

Happy baking!!

Ingredients for Iced Lime Tray Bake
For the cake batter:
6 ounces butter, softened
extra butter for greasing
6 ounces granulated sugar
8 ounces self-rising flour
1 1/2 teaspoon baking powder
3 medium eggs
3 tablespoons milk
zest of 2 limes, finely grated

For the icing:
8 ounces icing sugar, sifted
juice of 2 limes
How to Make Iced Lime Tray Bake

Grease a 9×13 inch traybake tin and line the bottom with parchment paper—Preheat the oven at 350°F.

Reserve half of the lime zest for garnishing. In a large bowl, combine all batter ingredients and beat for about 2 minutes until smooth and well incorporated.

Pour in the traybake tin and bake in the oven for 35 to 40 minutes. Your cake is ready when it is well risen and bouncy. Allow to cool in the pan and then transfer on a wire rack to cool completely. Remove the parchment paper.

While waiting for the cake to cool down, make the icing. Whisk together the sifted icing sugar and lime juice until the consistency becomes runny. Pour over the cake, spreading evenly using a palette knife. Allow the icing to set before cutting the cake into squares. Sprinkle the reserved lime zest and serve.

To see the original recipe that inspired this one, check out the recipe for Iced Lime Tray Bake found at dailymail.co.uk.