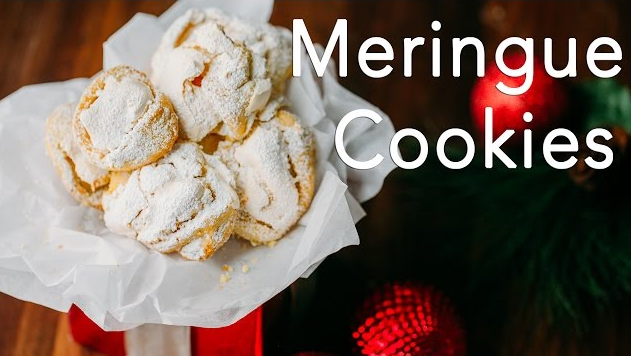 All-time classic Meringue cookies turned out into something that will blow your mind- Cookie roll filled with chewy meringue filling. For all the cookie and meringue lovers out there, this recipe is just for you.
You will taste beautiful buttery cookie dough and crackly meringue at the same time. While you probably had a problem with preparing single meringue recipe, now you will master the art of preparing perfect glossy meringue and buttery cookie dough.
When you will bite into this delicious cookie recipe, you will make them over and over again – they are that delicious.
It's a classic recipe with a modern twist. Basically, it is two recipes made in one – cookies and meringues together – a winning combination for those who love sweets.
For an extra impressive look and taste, you can add a little bit of chocolate in the meringue cookies and you will end up having an interesting presentation.
Baking time is totally fine because you don't want the meringue to set up while it's baking, but you want to feel that gooey center in the cookies.
Ingredients for Chewy Meringue Cookies
For Finish Cookie Dough:
200 g. butter, at room temperature
2 tablespoon granulated sugar
2 cups all purpose flour
1 teaspoon baking soda
2 egg yolks
2 tablespoons of sour cream
For the Finish Cookie Meringues:
2 egg whites
¾ cup granulated sugar
powdered sugar for dusting and serving
How to Make Chewy Meringue Cookies
In a bowl of an electric mixer beat in the softened butter and granulated sugar together. Add in egg yolks, sour cream and mix well until combined and fully incorporated. In a separate bowl mix well the dry ingredients – flour and baking soda. Add the dry ingredients into the beaten butter mixture and mix it together on low speed until the sides of the bowl are cleaned and soft dough forms.
In another mixing bowl beat in the egg whites and sugar to form meringue in stiff peaks. Beat on high speed for about 10 minutes.
Transfer the cookie dough on a piece of parchment paper and roll it out. Spread evenly already prepared meringue and using the parchment paper form the cookie dough into a log. Slice half inch cookies from the log and place them in a cookie sheet lined with baking paper.
Bake this cookie in a preheated oven at 350 degrees F or 175 degrees C for about 15 to 17 minutes. When ready and cooled, sprinkle with powdered sugar and they are ready for serving.
To see the original recipe that inspired this one, check out the recipe for Chewy Meringue Cookies found at Natashas Kitchen.