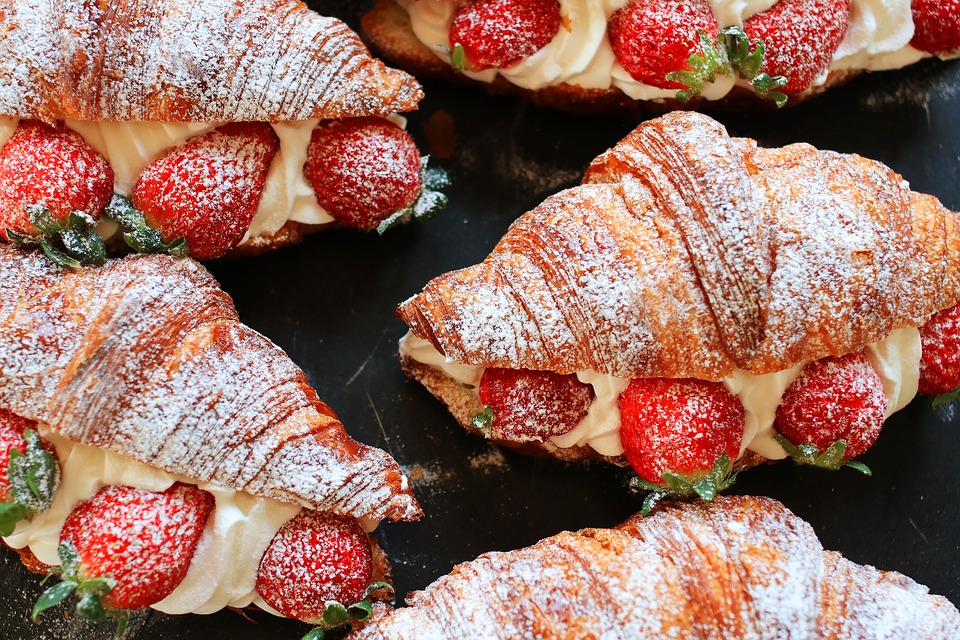 A classic French pastry that we've come to know and enjoy. It's buttery and flaky exterior combined with a creamy filling will make a heavenly breakfast treat. Today, we're going to add some cream cheese and strawberry filling to take it to the next level. Enough for 8 servings, everyone will love you for serving this at breakfast. 
Everyone has tried croissant at least once. My best experience actually comes when I visited my parents. There's a cute little bakery near my parent's house, and we haven't had any breakfast. Long story short, we ended up buying two dozen of the most delicious croissant. I went into research mode after we went home and just had to make a recipe for it. I know my husband and kids will really enjoy it. 
If you want to take it up a notch, add a scoop of gelato to the croissant, and you'll have yourself two of the most delicious European treats in a plate. A hot cup of black coffee also a great pair for it. Or, you can add some fresh fruits for the topping. Get a little creative and serve something unexpected for breakfast. 
Ingredients for Strawberries and Cream Croissant
5 strawberries (finely sliced)
3 tablespoons cream cheese
3 tablespoons powdered sugar
1 pkg croissants
⅓ cup whipped topping (thawed)
How to Make Strawberries and Cream Croissant
Preheat your oven to 350 F. Slice the strawberries into small pieces and put into a small bowl. Mix the strawberries and cream cheese together until thoroughly combined. Roll out the croissants and separate them then spoon the strawberry mixture into the middle of each croissant. 
Roll up the pastries and transfer them onto a cookie sheet and bake for about 15 minutes, until golden brown. Lightly coat the pastries with powdered sugar when they are done. Allow to cool and then add a small amount of whipped topping on top. Serve and enjoy.
To see other recipes for Strawberries and Cream Croissant, check out: 
https://crazyadventuresinparenting.com/2018/11/easy-strawberry-shortcake-croissants.html
https://www.monpetitfour.com/strawberry-croissants/
http://dessert.betterrecipes.com/strawberries-and-cream-croissants.html