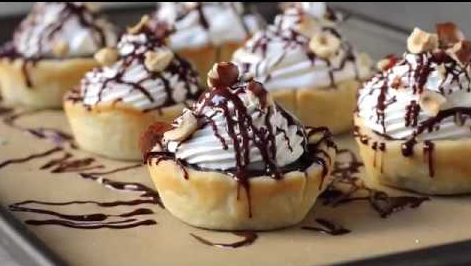 This a healthy but delicious dessert option for you when you want to cut back on those sugar and dairy. These vegan desserts have a rich, sweet, and hazelnutty taste, but without the artificial vanilla flavoring, refined bleached sugar, and palm oil. Perfect for any occasion and you can make it all year round. For this recipe, you'll get 7 healthy, delicious, mini pies.
I've always been skeptical with any dairy-free/vegan dessert because, in my mind, they can't taste good. Boy, I was wrong. The first time I had a vegan dessert, I didn't even know it until I finish it, it was a surprise but also made me want to make it for my family, a healthy dessert option.
I've already written a few topping options for this amazing and healthy dessert, but don't let that stop you. There's still a lot of things that you can add to this dessert, something like chopped fresh fruit, powdered sugar, or maybe some chocolate chips.
Ingredients for 5-ingredient Mini Chocolate Hazelnut Pies
CRUST:
1 ready-to-bake rolled pie crust
FILLING:
6½ tablespoons canned unsweetened coconut cream (see note)
2 oz bittersweet chocolate chips (melted)
⅓ cup Rigoni di Asiago® Nocciolata dairy free
½ teaspoon vanilla extract
How to Make 5-ingredient Mini Chocolate Hazelnut Pies
For the crust; preheat your oven to 350 F. Take out the rolled pie crust from the fridge and let it sit at room temperature for about 20 minutesor until slightly softened then unroll the pie crust onto a clean surface. Punch circles out of the crust using a 4″ circle cookie cutter.Into an ungreased muffin tin cups, firmly press the pie crust circles. Bake until golden brown (12 minutes) then let cool completely.
For the filling; whisk the coconut cream and melted chocolate in a large bowl until completely smooth. Whisk in the Nocciolatathen the vanilla extract.Into the baked pie crust cups, scoop the "batter" and transfer the pan to the fridge. Refrigerate overnight. Serve with coconut whipped cream, melted chocolate drizzled on top, and a sprinkle of chopped hazelnuts.  Enjoy!
Note: Or, refrigerate a can of full-fat coconut milk (unshaken) and scoop out ½ cup of the cream.
To see the original recipe that inspired this one, check out the recipe for 5-ingredient Mini Chocolate Hazelnut Piesfound at Desserts with Benefits.