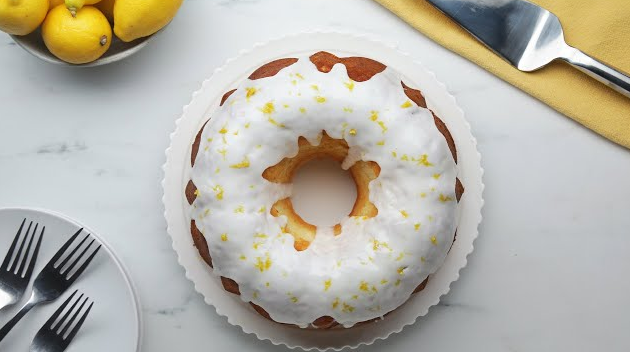 How about a delicious and rich slice with lemon flavor in the morning?
No matter how you have it – for breakfast or brunch, or just for a tea party in your home, this lemon bundt cake is everything you need for great entertaining.
With rich and lemony flavor, crumbly on the inside, and decadent on the outside with just a perfect zing of the lemon zest in the glaze on top, this recipe represents a winning combination for everyone's taste.
The best part of the recipe is that everything happens in a single bowl with a few and very basic ingredients, but the perfect combination is what creates the most exotic flavor in this recipe.
You can prepare the bundt cake one or two days ahead and just pour some lemon glaze on top just before the guests arrive or before serving.
Also, you can alternate the recipe, and instead of lemon, use some orange to bring another winning combination.
Ingredients for Beautiful Lemon Bundt Cake Recipe
For the Bundt cake:
3 cups of flour
2 teaspoons of baking powder
1 cup of butter, at room temperature
2 cups of sugar
1 teaspoon of salt
3 eggs
2 tablespoons of lemon zest
¼ cup of lemon juice
1 teaspoon of vanilla extract
1 cup of whole milk
For the lemon syrup:
½ cup of sugar
¼ cup of lemon juice
For the lemon glaze on top:
2 cups of powdered sugar
3 tablespoons of lemon juice
lemon zest for garnishing
How to make Beautiful Lemon Bundt Cake Recipe:
Preheat your oven to 350 F degrees or 180 C degrees. Spray with an oil Bundt cake and set aside.
In a large bowl, combine the dry ingredients: flour and baking powder.
In a separate large mixing bowl, beat in the butter and sugar together until fluffy and combined. Add in salt, eggs, one at a time beating well between each addition. Add in lemon zest, lemon juice, and vanilla extract. Mix and add half of the dry ingredients and then mix well and pour the whole milk. Mix again and add in the other half of the dry ingredients. Mix with the help of a spatula and pour the batter in sprayed Bundt cake pan. Bake for 50 minutes or until golden brown and inserted toothpick comes out clean.
Using another bowl, combine sugar and lemon juice. Microwave it until melted and syrupy consistency forms. Set aside.
In another small bowl, combine powdered sugar and lemon juice. Mix until smooth and pourable consistency forms.
Pour the lemon syrup on top of the baked Lemon Bundt cake, and decorate the whole Bundt cake with lemon glaze, garnishing it with lemon zest.
To see the original recipe that inspired this one, check out the recipe for Lemon Bundt Cake found at Tasty.