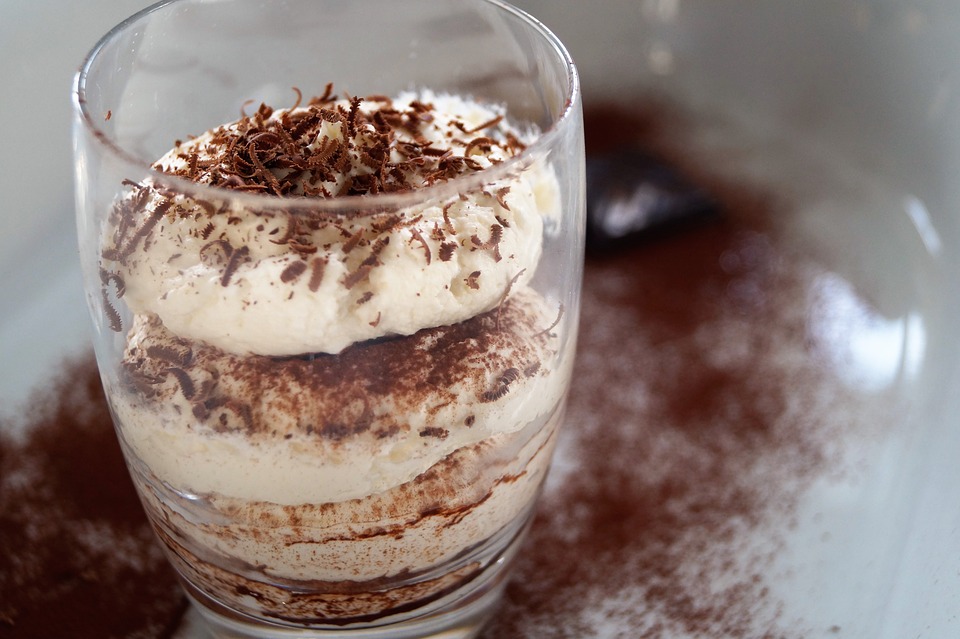 It's a party in a cup. Believe me when I say that this super creamy and delicious dessert will put a smile on everybody. The light and airy texture of the mousse combined with the creaminess of the tiramisu makes this dessert heavenly. This recipe will make 4 cups of amazing dessertthat won't even last a conversation.
I wanted to make something different for my family and one of their favorites is tiramisu, I guess it's everyone's favorite. But I wanted to add my own little touches to it and that's when I come up with this recipe. It's a mix of Italian and French classic dessert that I know my familywill love.
Tiramisu is already a delicious dessert, incorporate mousse into it, then you have a super dessert. But it doesn't mean that you can't add anything to it. If you want it to have a little kick, add a bit of rum, or some bitter dark chocolate to balance the sweet flavor.
Ingredients for Tiramisu Mousse Cups
1 ½ teaspoon instant coffee
¼ cup hot water
1 cup heavy whipping cream (cold)
1 ½ cups powdered sugar
8 ounces mascarpone cheese or Challenge cream cheese (low-fat cream cheese is fine too)
1 teaspoon vanilla extract
1 tablespoon unsweetened cocoa powder
1-ounces semi-sweet baking chocolate
How to Make Tiramisu Mousse Cups
In the hot water, place the instant coffee, stir, and let cool for 5 minutes. Beat heavy whipping cream until stiff peaks form and chill until ready to use. Using a hand mixer, mix the powdered sugar and mascarpone/cream cheese until smooth. Mix in the vanilla extract and 1 tablespoon of the coffee or you can add up to the entire amount of coffee, depending on how strong you want your tiramisu. Mix in the vanilla.
Gently fold the whipped cream into the coffee mixture. In a gallon size Ziploc bag that is fitted with a large round or 1M tip, place the tiramisu and pipe a small amount to the bottom of each of the 4 serving glasses (I used6-ounce size glasses). Dust the top layer with cocoa powder. Continue layering the tiramisu and cocoa powder.
On the top layer, grate the 1 ounce of semi-sweet baking chocolate over the tops of the serving dishes instead of the dusting of cocoa powder. This will give a sweet first taste instead of the bitter unsweetened cocoa. Cover and chill in the fridge until ready to serve. Enjoy.
To see other recipes for Tiramisu Mousse Cups, check out:
https://cookinglsl.com/tiramisu-mousse-cups-recipe/
https://www.crazyforcrust.com/easy-tiramisu-mousse/
https://www.news24.com/MoveMag/Archive/easy-to-make-tiramisu-mousse-20170728