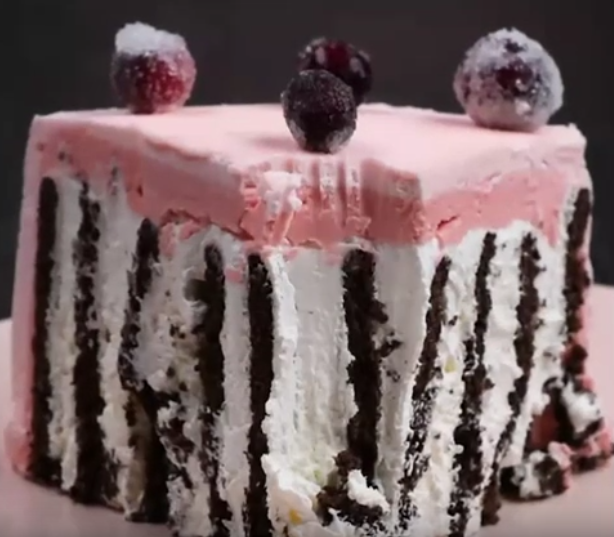 This cake might look complicated to make, but trust me, it's easier than you think. You can make this amazing dessert all year round, and if you have little kids running around in the house, make this as a special treat. This recipe will easily serve 6 people with a generous portion.
Being a mother of two little kids, I want to surprise them from time to time and give them something special as a treat, but sometimes I just don't have enough time. Don't worry; I guarantee that you already have 90% of the ingredients in your kitchen. Also, it's so easy to make and won't take much of your time.
The best thing about this recipe is that you can literally add anything for the topping, my kids like cranberries and I candied them and put it on top of the cake. The cranberries were gone before I even slice into the cake. Sprinkle some chocolate chips, crumble more crackers to give it that crunchy taste, whatever you like.
Ingredients for Easy Zebra Cake
16 oz cool whip
15 oz chocolate graham crackers
2 sticks butter
4 cups powdered sugar
½ cup cranberry juice
⅓ cup of corn syrup
2 tablespoons water
5 oz fresh cranberries
½ cup of sugar
How to Make Easy Zebra Cake
Break the graham cracker in halves and generously cover 1 side with cool whip. Prepare a springform pan and fill it with the crackers, starting from the edges and going around to the center. Cover the top with more cool whip and chill for about 4 hours.
In a bowl, add butter, powdered sugar, and cranberry juice and mix using a hand mixer until creamy and well combined. Chill for about 1 hour. Add a bit of water to the corn syrup, pour over fresh cranberries, and mix to coat the berries with the syrup. Place the syrup covered cranberries in a bowl of sugar and shake until well coated. Remove the cake from the pan, cover with the frosting, and put the candied cranberries on top. Serve and enjoy.
To see the original recipe that inspired this one, check out the recipe for Easy Zebra Cake found at frank faulkner.