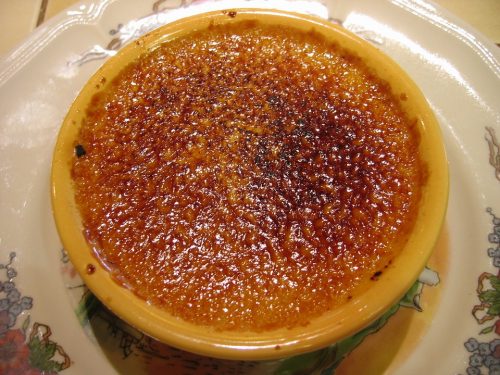 Creme brulee cheesecake is one of the magnificent, scrumptious and delectable cake recipes you can ever make. This is a delight for cheese lovers and it's sweet, creamy, cheesy and crunchy caramel texture is really commendable. You can bake this dazzling and appetizing cake for a party, events or any time you want. The cream cheese in the cake is really healthy for growing kids and even for adults asit is rich in healthy nutrients. Most of its ingredients you can search in your refrigerator or kitchen cupboard. You can generously serve theCremeBrulee cheesecake to eight members.
This cheesecake takes me back to my mother's birthday party. It was a fine day of winters, I and my husband made the plan for my mother's surprise birthday party. At that joyous time, this was the perfect dessert to compliment that event. After that day my mother always calls me on her birthday and always ask for this CremeBrulee cheesecake. It's said that food is memories and it really gave us the best memories.
This brulee creme cheesecake can be served on a plain plate or maybe according to the occasion. Try to present this delicious creme cheesecake in a light colored plate to make it more presentable. The cake can be dressed in whipped cream, berries, nuts or whatever you like. The preparation time of the cake is about 2 hours and cooling time maybe overnight.
Ingredients of Brulee Creme Cheesecake
Vegetable oil to grease
18-20 digestive biscuits
1/2 cup unsalted melted butter
1.25 pounds cream cheese, at room temperature
¾ cups of caster sugar
1/2 tablespoon Vanilla extract
300ml double cream
3 Eggs
3 tablespoons caster sugar for topping
How to Make Brulee Creme Cheesecake
First, preheat the oven at 170˚ C for 10-15 minutes. Grease the 9-inch springform baking pan with vegetable oil and line it with parchment paper.
Fairly grind the digestive biscuits in a food processor and drizzle the melted butter into it. Mix it well, spread and press firmly this crumb mixture at the bottom of the baking pan. Bake it for 10-15 minutes at 170˚ C.
Turn the heat of the oven down to 160˚ C. Take a large bowl, add cream cheese and sugar in it and blend it well. Then add the vanilla extract, double cream and whisk the mixture to avoid any lump. Then pour beaten eggs in this mixture and blend the mixture again. Bake this cream cheese better for 45-60 minutes until it becomes firm but has a slight wobble. Let it cool at room temperature and put the cake in the refrigerator overnight. One hour before serving, sprinkle caster sugar on the cake and gently caramelize the sugar using a blow torch. The sugar crust starts to weep if you will wait longer for serving.
Serve and enjoy the delicious and dazzling Crème Bruleecheesecake immediately!
To see the original recipe that inspired this one, check out the recipe for Creme Brûlée Cheesecake found at Good Housekeeping UK.