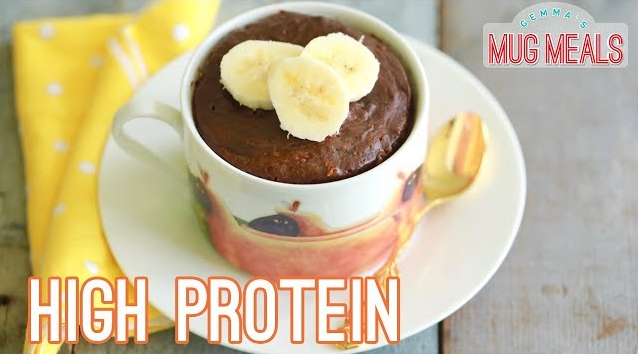 This is the perfect recipe for one of those crazy mornings when you don't really have time to make breakfast. It's super easy with simple ingredients and will only take about 1 minute to make. But don't get me wrong mommies, this amazing mug is high in protein to last you until lunch. This recipe will make 1 mug of super delicious, super easy breakfast. 
Being a mother of two little kids, mornings can be a really hectic time for me, I bet you other mommies can relate. So, when I make this recipe, not only I consider the time it will take to make them, but I also want to make something that my kids can really enjoy. 
This recipe is so versatile, you basically can mix and match the ingredients to your liking. I used egg for this recipe but if you don't eat egg, you can always add some more banana to it. You can also substitute the peanut butter with almond butter for a healthier option. The point is, make this recipe as a base and add your own touch to it. 
Ingredients for Chocolate Banana High-Protein Mug Cake
1 medium ripe banana
¼ cup peanut butter or almond butter
1 large egg
2 teaspoons granulated sugar
3 tablespoons cocoa powder
How to Make Chocolate Banana High-Protein Mug Cake
In a large mug, mash the banana using a fork. Now, combine the nut butter and egg and mix until well combined. Add sugar and cocoa and beat until smooth then divide the batter between two mugs. Microwave each mug separately for about 1 minute until risen and firm. (every microwave is different so cooking may vary).Be careful not to overcook or the cake will dry out fast. Serve immediately and enjoy. 
To see the original recipe that inspired this one, check out the recipe for Chocolate Banana High-Protein Mug Cake found at Bigger Bolder Baking.