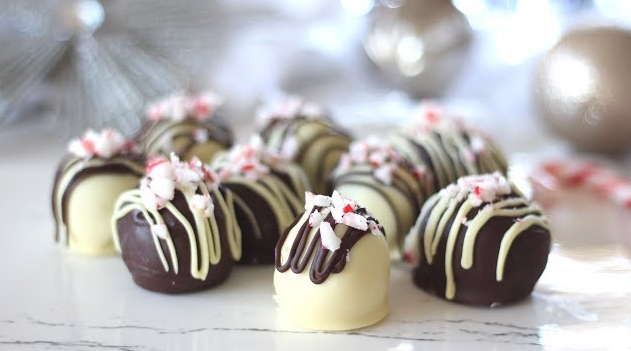 Make this easy and amazing dessert for Christmas, you won't regret it. It's super simple to make and you probably already have most of the ingredients in your kitchen. Procedures you have to do is melt, chill, repeat, and you're done. This recipe will make about 14 delicious truffle balls. 
I always love chocolate truffle, it's so common these days and you basically find it in every bakery store everywhere. Or, you can make your own and add a little personal touch. My kids also love chocolate, so anything with chocolate, they will gobble up immediately. This recipe is simple enough that you can make batches of it and just store in the fridge if there are any leftovers, but I doubt it. 
Chocolate balls or truffle is always a safe bet when you want to make something simple but delicious, the key is in the chocolate, buy a higher quality dark and white chocolate, you won't regret it. I sprinkle some crushed peppermint candy on top but you can add whatever you like, walnuts, chopped fruit, it's up to you. 
Ingredients for Peppermint Chocolate Truffles
8 3/4 ounces dark chocolate
1/2 cup heavy cream
1 teaspoon peppermint essence
5 1/3 ounces white chocolate chips
5 1/3 ounces dark chocolate chips
2-3 candy canes
How to Make Peppermint Chocolate Truffles
Chop up the dark chocolate into small pieces and transfer into a medium-sized bowl. Into a heavy-based saucepan, pour the cream and heat on medium heat until just about boils. Remove from the heat, pour over the chocolate and leave for about 5 minutes. With a spatula, mix the cream and chocolate together until well combined. Next, pour in the peppermint essence and mix until combined. Cover and put the truffle mixture into the fridge for at least 6 hours.
Scoop out the chocolate after 6 hours using a cookie scoop and roll into balls. Line a baking sheet with baking paper so the truffles do not stick and place the truffles then until firm, put the truffles into the freezer for at least 30 minutes. Melt white and dark chocolate and dip the truffles to coat. Sprinkle with crushed candy canes and before serving, leave to set. Enjoy.
To see the original recipe that inspired this one, check out the recipe for Peppermint Chocolate Truffles found at Recipes by Carina.