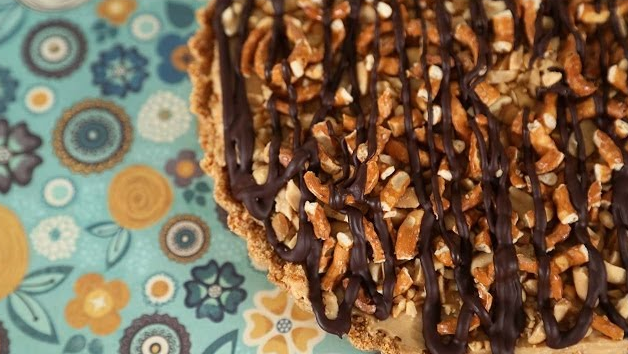 Make this amazing pie for national pretzel day and you'll certainly be the star of the party. It's sweet and salty, it's chocolaty and buttery, a perfect dessert. Cut to6 servings with generous portion, I guarantee everyone will love it.
I bet everyone has had this delicious snack/dessert, I had it just now. With this recipe, I want to share something a little different from the traditional pretzel that we're used to and add a little something to it.
This dessert will go along nicely with a hot cup of coffee on a Saturday afternoon and just chill on the porch or just watching tv. Sprinkle some cinnamon on top if you prefer or anything that you like.
Ingredients for Chocolate Pretzel Peanut Butter Pie
FOR THE CRUST:
4 cups pretzels
¼ cup of sugar
¼ cup butter (melted)
FOR THE FILLING:
¾ cup whipping cream
1 cup cream cheese (room temperature)
1 cup smooth peanut butter
1 cup powdered sugar
1 tablespoon vanilla extract
FOR THE TOPPING:
½ cup peanuts (chopped)
½ cup pretzels (crushed)
¾ cup of chocolate chips
How to Make Chocolate Pretzel Peanut Butter Pie
For the crust; blend pretzels in a food processor into fine crumbs. Add in the sugar and butter. On a lightly greased pie, tart or spring-form pan, press the mixture into the bottom and sides.
Bake at 350 F for 10 minutes and before adding the filling, allow the crust to cool completely.
For the filling; whip the cream until it's light and doubled in volume using a hand beater or a stand mixer. Set aside. Mix the cream cheese, peanut butter, powdered sugar and vanilla extract in a large bowl or a stand mixer. Fold the whipped cream into the peanut butter mixture, but make sure you don't over mix then spread the peanut butter filling over the pretzel crust evenly.
For the topping; over the top of the filling, sprinkle pretzels and peanuts evenly. Melt chocolate chips until smooth and liquid using a double boiler. Then, working quickly, pour the melted chocolate into a resealable bag or a piping bag or and snip off the tip. Drizzle chocolate over the top of the pie evenly.
For at least 2 hours, allow the finished pie set in the freezer or refrigerator. Serve the pie at room temperature or frozen and enjoy.
To see the original recipe that inspired this one, check out the recipe for Chocolate Pretzel Peanut Butter Pie found at The Domestic Geek.