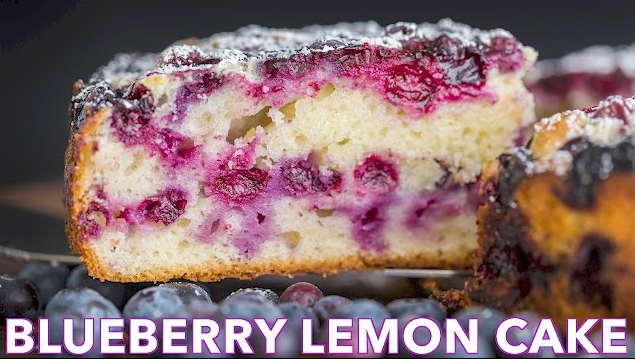 Don't you love the smell of lemon zest while it's baked in a cake!? When you will take this tea cake out of the oven, the smell will bring everyone on the table.
Today's recipe shows another winning combination – blueberries and lemon, such a summary food pairing that goes in every kind of recipe. The best part of this recipe – baking is involved.
Beautiful aromatic cake with fluffy and rich interior and a little bit of crunchy exterior with the amazing zesty and fruity aroma from the lemons and blueberries, this cake is great for your tea gathering or just makes really impressing gift for the upcoming party.
All you need is a girlfriends to come over for a big cup of tea or coffee and when you will serve this delicious lemon and blueberry cake, you will bring so much joy to the table. This classic favorite cake is a real winner for a girl's gathering.
Ingredients for Blueberry Lemon Cake
2 large eggs, at room temperature
1 cup granulated sugar
1 cup sour cream
½ cup olive oil or any kind of vegetable oil
1 teaspoon vanilla extract
¼ teaspoon of salt
2 cups all-purpose flour
2 teaspoons baking powder
zest of 1 medium lemon
juice of 1 medium lemon
½ tablespoon corn starch
16 oz. fresh blueberries
powdered sugar for dusting
How to Make Blueberry Lemon Cake 
In a large mixing bowl, combine the eggs and sugar and beat on high speed about 5 minutes until triple in size and light in color. Add in sour cream, olive oil, vanilla extract, and salt. Mix well until combined.
In a separate dish, mix together flour, baking powder and add that mixture in the batter just in thirds mixing well between each addition. Stir in lemon zest and half of the lemon juice in the batter.
In a bowl place in the blueberries, another half of the lemon juice, stirring well.
Preheat your oven to 375 degrees F and butter 9-inch springform pan and line the bottom with baking paper. Spread in half of the batter in the pan and top with half of your blueberries. Top with remaining batter and finish with the second half of your blueberries on top. Use your spatula to push the blueberries half way into the batter.
Bake for about 55 minutes until golden brown or inserted toothpick comes out clean.
Let it cool for 20 minutes and dust it with powdered sugar, serve immediately or as desired.
To see the original recipe that inspired this one, check out the recipe for  Blueberry Lemon Cake found at Natashas Kitchen.