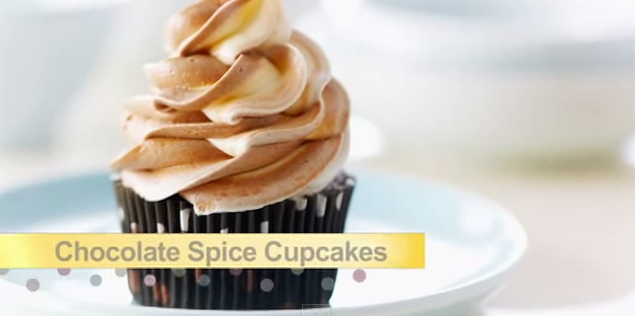 A fab Vanilla cup cake recipe that is then used to make some delicious cupcake recipes that are really yummy for a afternoon tea party either with family or friends .. these cupcakes are bound to be a hit with everyone as they look so moreish  .. have fun baking them x
here is an excerpt from the youtube page about the cupcakes
Cupcakes are a pop culture phenomenon with countless bakeries devoted to them. Anna teaches viewers how to make a variety of styles and flavours, everything from simple vanilla to decadent edible works of cupcake art. Starting with basic Vanilla Cupcakes, Anna shows how she perfects tasty and fluffy classic cupcakes that are sure to be crowd pleasers. Advancing the technique she then creates a more challenging version: Chocolate Spice Cupcakes. This rich cupcake hides a chocolate truffle centre and is enhanced with exotic warm spices. Yum! Traditional ice cream cones inspire Anna next, when she creates her delicious Dulce de Leche Cupcakes. And finally, what cupcake lesson would be complete without a little icing 101. Anna shares her tips and tricks on creating beautifully decorated cupcakes with her Floral Cupcake Frostings.
Click the link below to see how to create these cupcakes
Originally posted 2015-01-04 12:42:27.