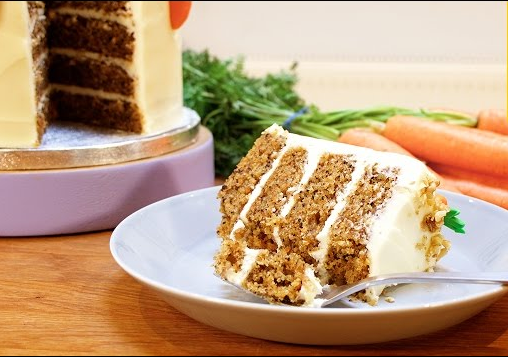 There's nothing better than grandma's carrot cake. It's super moist and creamy and tastes just amazing. I believe this recipe will make grandma's carrot cake a run for her money. Carrot cake is one of those cakes that is mandatory on any family and usually, every family has their own twist to it, perfect for any day of the week, all year round. This recipe will make 8 servings that will easily satisfy everyone.
Like I mentioned, there's nothing better than grandma's carrot cake. It's one of those treats that I always looked forward to whenever I visited my grandparent's house. Today, I want to share this recipe with you so you can serve this for your family and maybe put a twist of your own too.
Ice cream is the first thing that comes to my mind when I want to serve this carrot cake. Butter pecan ice cream is perfect for it and the taste complement each other. If you don't have it, you can just add something that your family like, trust me, you can't go wrong with this carrot cake.
Ingredients for Carrot Cake
FOR THE CARROT CAKE:
15 ounces plain flour
17 ounces caster sugar
9 ounces finely ground walnuts
2 1/2teaspoons cinnamon
3/4 teaspoon salt
1 1/2 teaspoon baking powder
1 1/2 teaspoon bicarbonate of soda
6 eggs
2 cups of vegetable oil
13 ¼ ounces) finely grated carrots
FOR THE CREAM CHEESE ICING:
6 ounces butter
9 ½ ounces cream cheese
33 ounces icing sugar
chopped walnuts (to decorate)
How to Make Carrot Cake
Preheat your oven to 350 F. Prepare four 8-inch round tin with loose bottom and grease. Sift flour, cinnamon, salt, baking powder, and bicarbonate soda. Whisk the walnuts using a food processor into fine crumb then add them to the sifted mixture and mix to combine. Set aside.In the bowl of your food mixer, beat the eggs and sugar until it turns a bit fluffy then gradually add the vegetable oil and turn the speed high for about 30 seconds. Add in the carrots and mix on low speed for about 30 seconds.Add in the dry ingredients and mix on low speed for about 30 seconds. Distribute the batter evenly among the 4 prepared tins and bake for 25-28 minutes.
In the meantime, prepare your cream cheese icing. Beat the butter until pale and fluffy. Add in the cream cheese and beat for about 1 minute. Add in the sugar and beat until all ingredients fully come together. Set aside. Take out your carrot cake and allow to cool to room temperature. Then, trim and level the cakes and fill them with about an inch of the cream cheese icing in between your cake stack. Coat the sides and top of the cake with a thin layer of the cream cheese icing and put in the refrigerator for about 30 minutes to let them set completely. Once set, finish coating the cake with the cream cheese icing. Decorate the cake however you like, serve, and enjoy.
To see the original recipe that inspired this one, check out the recipe for Carrot Cake found at CupcakeJemma.