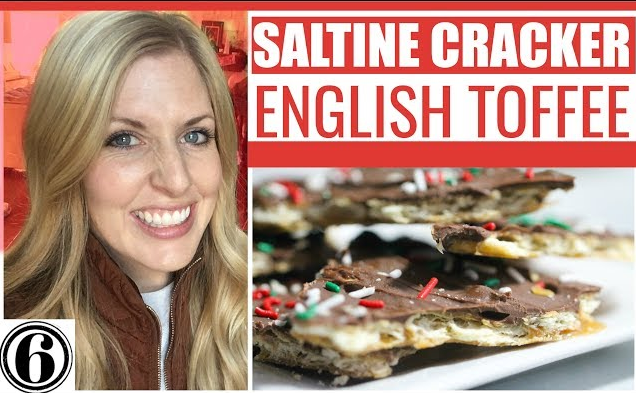 This is a simple and super easy Christmas treat. Toffee has a British heritage but today, we're going to make it the American way, with saltine crackers, brown sugar, and milk chocolate chips. When done, all you have to do is break it apart with your hands and it will serve about 3-4 people. But it's so easy to make, why make only one pan? 
The classic British toffee is a bit hard and can break your teeth if you're not careful. Today, I'm going to share this recipe for a toffee that's softer and you can really have fun in making it. 
This toffee recipe is pretty much a blank slate for you to add your own twist and creativity. Add a variety of toppings that you and your family likes, put some ice cream in a cup and scoop it with this toffee, it's up to you. 
Ingredients for Saltine Cracker English Toffee
40 salted saltine crackers
1 cup (2 sticks) butter
1 cup brown sugar
2 cups milk chocolate chips
1 cup chopped nuts (use whatever kind you like)
How to Make Saltine Cracker English Toffee
First, preheat your oven to 400 F. With aluminum foil, line a large jelly roll pan and spray with non-stick cooking spray and lay the saltine crackers on the pan. Melt butter and brown sugar in a saucepan over medium-high heat. Bring to a boil and do not stir for 3 minutes. After 3 minutes, pour the hot brown sugar mixture over the saltine crackers evenly.
Bake in the oven for 5-7 minutes. Remove from the oven and across the toffee, sprinkle the chocolate chips. Let them melt and then use a spatula to spread the melted chocolate evenly across the toffee (similar to frosting).On top of the melted chocolate, sprinkle chopped nuts and let the toffee and chocolate cool completely. Break the toffee into bite-size pieces.To store, keep in the freezer for a couple of months or an air-tight container for 1-2 weeks.
To see the original recipe that inspired this one, check out the recipe for Saltine Cracker English Toffee found at Six Sisters' Stuff.