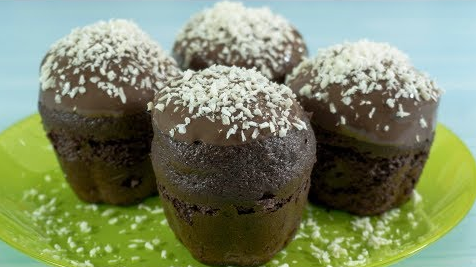 Chocolate muffins are one of my favorite desserts because of their down to earth simplicity and chocolate inclusion. They can be whipped up within 1 hour and do not require too many kitchen equipments that will result in a huge pile of dishes to be cleaned. And, who doesn't love chocolates? I love chocolate, and I bet you do too. Thus, if you love chocolate, love desserts, and you need something easy to make, this chocolate muffin recipe is absolutely your go-to recipe.
Maybe, it's your daughter's birthday and she clamours for some cake whereas you didn't plan ahead for it. You can just walk into a nearby pastry store, get these few ingredients which you probably have a good number of at home and prepare to make her some chocolate muffins These muffins are good and adding dessicated coconut to them gives this crunchy yummy taste that will have you humming after eating them. So, don't forget to buy a desiccated coconut from the store.
Moving straight into the kitchen for your daughter's unplanned birthday, make her these chocolate muffins, pack them in a box and let her take them to her friends. You'll automatically rank the best mom of the year.
Ingredients for Easy Chocolate Muffins 
3 eggs
1 cup of granulated sugar
1 ½ cup of buttermilk
1 teaspoon baking powder
5 tablespoons cocoa powder
1 ½ cup of all purpose flour
100g chocolate bar
½ cup of desiccated coconut
How to Prepare Easy Chocolate Muffins
Crack 3 eggs into a large bowl, add 1 cup of sugar and 1 ½ cup of buttermilk. Into another bowl, sift 1 teaspoon baking powder, 5 tablespoons cocoa powder and 1 ½ cup of flour. Mix the dried ingredients together and using a spatula, gently incorporate them into the large bowl.
After properly mixing, set aside and preheat oven at 350 degrees Fahrenheit. Also, line 6 baking cups with baking papers and allow to sit in a baking tray. Fill the cups halfway with the chocolate batter to allow enough space for the muffins to rise while baking. Then, bake for about 20 to 30 minutes until a toothpick comes out clean when dipped into the muffins.
After baking, remove the muffins from the cups and allow them to cool in a plate. Cut 100g chocolate bar and put in a small dish. Place the dish into a microwave for 30 seconds so as to melt the chocolate. Allow the syrup to cool a bit then pour about 2- 3 tablespoons on each muffin. Also, garnish each muffin with 1 tablespoon desiccated coconut.
To see the original recipe that inspired this one, check out the recipe for Chocolate Muffins found at Hungry Cat