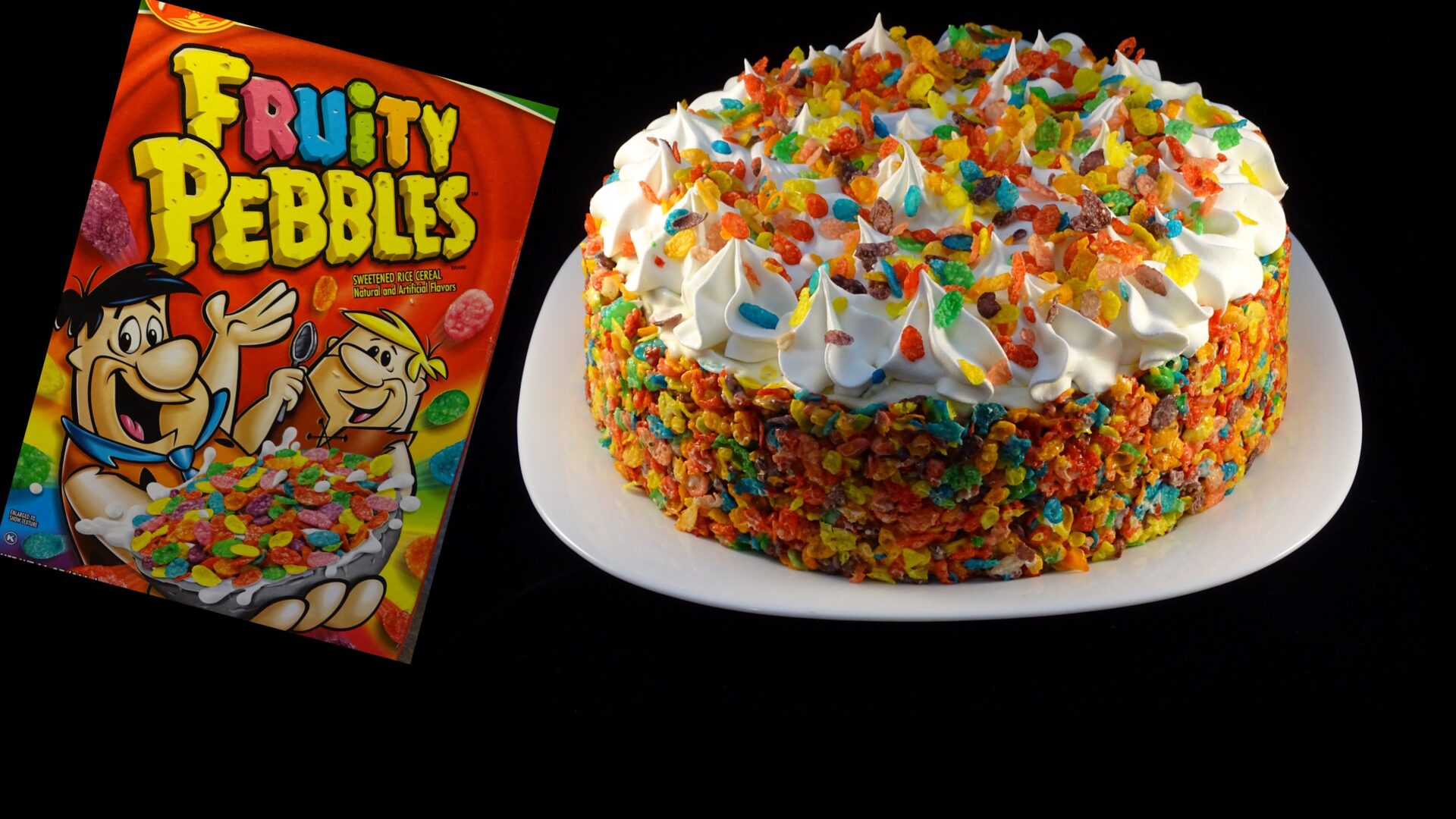 Cereal is not just for breakfast. You can also be creative and include it on your no-bake dessert like this colorful Fruity Pebbles Cheesecake.

Fruity Pebbles Cheesecake consists of a cereal crust with rich cream cheese filling and finished with whipped cream on top and an additional cereal sprinkle. If you're not a fan of Fruity Pebbles, you can try this recipe with rice krispies or your favorite breakfast cereal.

Ingredients for No Bake Fruity Pebbles Cheesecake
For the Crust:
2 tablespoons butter
3 cups mini marshmallows
5 cups Fruity Pebbles cereal

For the Filling:
2 (8oz) cream cheese, softened
1 1/2 cups + 2 tablespoons heavy whipping cream, divided
2 cups Fruity Pebbles cereal
1/2 cup granulated sugar
3/4 cup powdered sugar

For Garnish:
whipping cream
1/2 cup cereal

How to Make No Bake Fruity Pebbles Cheesecake

Lightly grease a 9-inch springform pan with cooking spray.

In a saucepan, combine butter and mini marshmallows. Cook them over medium-low heat until both are melted. Add the cereal and mix until well combined. Pour the mixture into the prepared pan, and using your hands, press the mixture into the bottom and sides. Set aside to cool down.

Beat 1 ½ cups of heavy whipping cream until it has thickened a bit. Add powdered sugar and beat again until stiff peaks form.

In a separate large bowl, beat the cream cheese and granulated sugar until smooth. Add two tablespoons of heavy whipping cream and beat until combined. Gently fold in the whipped cream and then the fruity pebbles—transfer filling into the crust. Refrigerate for 8 hours or overnight.

Before serving, pipe extra whipped cream on top and sprinkle the half cup of cereal.


To see the original recipe that inspired this one, check out the recipe for No Bake Fruity Pebbles Cheesecake found at yoyomax12.