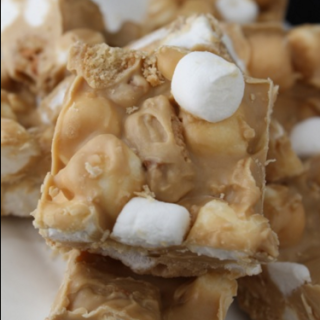 If you love including spreads like Nutella, peanut butter, you will love Biscoff spread too. Combining this delicious spread with white chocolate, crushed cookies, and marshmallows make this Biscoff Rocky Road deliciously perfect. 
 
You can also make your own Biscoff spread by blending 20 Biscoff cookies, 2 tablespoons packed brown sugar, and 1/4 cup heavy cream in a food processor. 
Ingredients for Biscoff Rocky Road
 
12 ounce white chocolate, chopped
3/4 cup Biscoff spread
2 tablespoons butter
1/8 teaspoon salt
1/2 teaspoon vanilla extract
1 1/2 cups  ounce crushed cookies 
2 cups mini marshmallows, (separate 1/4 cup)
 
How to Make Biscoff Rocky Road
 
Grease an 8×8 inch pan with cooking spray. In a heatproof bowl, combine chocolate, Biscoff spread, and butter. Melt in the microwave on high power at 45 seconds and then stir. Repeat the process until the mixture is completely melted. You can also use the double boiler method.
 
Add the vanilla and salt and allow the mixture to cool for about two minutes so that the marshmallows will not melt once added. Mix crushed cookies and marshmallows while the mixture is in liquid form. Pour the mixture into the prepared pan and, using a spatula, spread it evenly. Sprinkle the remaining 1/4 cup of marshmallows on top and gently press them down.
 
Refrigerate until chocolate has set. Cut into squares and serve. 
 
To see the original recipe that inspired this one, check out the recipe for Biscoff Rocky Road found at The Traveling Spoon.